Australian Traveller Readers Jaimie Solway and Annie Regan have found what they believe to be Australia's best hiking trails.
Reader Favourites: Finding the Happy Trails
AT readers Jaimie Solway and Annie Regan have found what they believe to be Australia's best hiking trails.
About 5-10km on the road out of Townsville, heading south to the now famous Bowen, there's a turnoff to Alligator Creek Falls. It's a 17km trek that starts off very tame in a camping ground. Initial flat and hilly ground soon becomes one of three river crossings, where you need to step from one carefully chosen, partially submerged rock to another to avoid falling in to the water below (although it's probably only mid-thigh deep).
Along the way, you'll come across lots of beautiful bush and rainforest-style scenery, and if you're lucky (like we were) a number of rock wallabies. At the end there's a section of long grass up past your armpits to walk through before climbing over large rocks and through branches and other obstacles to reach your final destination – an amazing three-level waterfall that goes up for about 100m. The real treat at the end is stripping off down to your bathers and doing a great big bombie into the water below!
When you finally make it back, there are creek beds to soak your feet and any injured parts in, and if you time it well this is when the rock wallabies come out to explore. You can also set up camp before you set out in the morning, so when you return you can settle in with a nice cold beer and some great photos and memories of your day out. – AT reader Jaimie Solway
Australia's best hiking trail is without a doubt Tasmania's Overland Track. Starting with the climb to Marion's Lookout, you're surrounded by forests and lakes and feel peaceful straight away. Cradle Mountain is a constant guide for the first few days, urging you on and reminding you where you've come from.
The moors leading up to Mt Pelion West are the most peaceful place I've ever encountered – surrounded by mountains, on top of the world, with condensation gently rising through the early morning sunlight off the tarns . . .
Some of the hills on the trail are physically and mentally challenging, and can provide you with enormous personal growth. Little side trips produce waterfalls, swimming holes, picnic spots – constant beauty and surprises along the whole length of the trail. The forest is varied and there are always mountains to marvel at – and to conquer if you desire. Reaching the end is a quiet and wonderful achievement, and leaves you already planning when you can go back and do it again. – AT Reader Annie Regan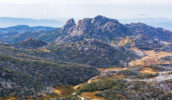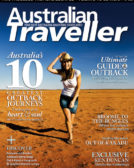 Enjoy this article?
You can find it in Issue 21 along with
loads of other great stories and tips.