sharing the AT reader community
AT community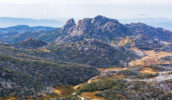 AT reader questions, photos, favourites, recommendations, jokes and ideas.
"YOUR SHOT" RUNNER UP, Dan Purnell
My partner and I were out having dinner and I planned to go take some photos of Sydney's landmarks after. This crazy storm started to come over and I could see the lightning coming. Then came the rain! I decided to call it quits on the whole night but thought I'd go see the Harbour Bridge just to see what it would look like. The buildings were being struck by lightning on the north side of Sydney, so I was like, "This could get nasty." Then all of a sudden the bridge was struck by lightning, and just by coincidence I was shooting a photo. I was there for maybe 20min in teeming rain trying to get the photo with my camera wrapped in a plastic bag
SUE'S SECRET SPOT…WE'VE NEVER HEARD OF
A few years ago we were camping at The Hub at Pambula Beach on the South Coast of NSW. We took a drive towards Eden and turned off along a bumpy little road, following a sign that said Quondolo Point. A short walk through some seaside bushes brought us to a perfect little beach. It was everything a beach should be and we spent a morning by ourselves basking in its beauty and the autumn sun.
The next time we visited Quondolo we found a group of surf fishermen who'd chanced upon a run of salmon. They'd caught their quota and were releasing their catch, but the next salmon swallowed the hook. They asked us if we'd like to have a nice fresh salmon for tea! You can guess our answer.
We waited till a few people were barbecuing their dinner at The Hub's facilities that night before slapping our "catch" onto the hotplate. We were honest about how we got the fish, but we kept Quondolo Point as our secret.
– Sue Kallas, East Ryde NSW
MICHAEL'S FAVOURITE HOLIDAY SPOT
Sydney's inner city and inner west. After travelling the world and pounding the streets of Paris, London, New York, Mumbai, Kathmandu, Singapore . . . there's nothing that the rest of world can offer that you can't find in Surry Hills, Newtown, Enmore or Paddington. Why not cut the expensive airline ticket and spend a week or two shopping and wining and dining? Sydney's inner city has all the tastes, sounds and cultural eclectic nuances that any of the worlds' major cities can offer. – Michael Rensford, Darlinghurst NSW
WHAT CARMEN ASKED AT
Hi! I'm looking for a "dinner and show" in Melbourne for a weekend. I'm not having much luck and was wondering what you'd recommend? – Carmen Green, Perth
Hi, Carmen. We sent a quick enquiry to our pals at GoStay in Melbourne, and they had this to say: "citysearch.com.au is a great site that includes everything you need to know to inspire your time in Australia's eight capital cities, including what's on, where to eat, bars and clubs, movies and the arts. I love the little insider tips like 'What's Popular' and the user reviews." So we headed there for a quick browse and there's a great feature where you can tell it to search for "all entertainment" in Melbourne for the coming month, then you can refine it to just take in theatre, or food, or only a particular area of the city. They've also got a good "coming up" feature, which lists festivals etc. In terms of dinner and a show, citysearch turned up manchesterlane.com.au, which we thought looked pretty good, either to catch some live music, or as a place to go before/after the theatre. We hope this turns up something useful for you. – Ed
"YOUR SHOT" RUNNER UP, Wayne Harlech-Jones

This was taken at sunset on Manly Beach. Manly might seem very exotic, but it's a good hour and a bit drive from my home, and not a part of Sydney I visit very often. However, there always seems to be something happening when I do. This particular evening a young man was just finishing his sand sculpture of a dragon. He travels the world making sand sculptures for money and, as you can see, he's quite talented. I like the colours in the sky and the man's figure in the background completing the dragon's spines.
KIP AND RANDELL'S CHANCE TASMANIAN ENCOUNTER
I'm a very novical (is that a word?) photographer and I've no idea what constitutes a "good" photo, but we managed to have one of those once-in-a-lifetime chance meetings with a beautiful example of native Australian wildlife near Cradle Mountain one afternoon. We'd just got back from a tiring 3.5hr hike up to a lookout that was fogged out and visibility was close to zero. As I sat down to rest my feet overlooking a medium-sized pebbly stream, I noticed a pair of ducks swimming and, after the disappointment of the walk, thought I might get a few snaps of them. As I walked to the stream's edge I noticed this baby platypus swimming towards my side of the bank. I started snapping away madly and called my wife over to enjoy the sighting as well.
The baby platypus looked up at me, then just went on with its food foraging for about five minutes as if I wasn't there at all. And he/she did it right next to my foot! We saw many other beautiful and wonderful sights over our two-week trip to Tasmania, but this was the highlight for us both. I only have a cheap camera, but it did us proud this time.
– Kip and Ranell Hobson, via email

Reader Favourites
STANLEY IN WINTER
AT reader Victoria Csikos from East Brisbane is warm all year round. So of course she likes to head South for the winter.
Though I have many secret holiday spots, one that left a lasting impression is the town of Stanley on the northwest coast of Tasmania. While I'm sure the summer months (is there ever really a summer in Tasmania?) are the prime time for tourists, I found the quaint little town just the perfect spot in winter. Its streets are full of gorgeous historic homes and buildings and the beautiful rugged coastal vistas beckon a bygone era. Almost as if you've stepped back in time or maybe stepped ashore in England.
Old stone church, old cemetery perched on the side of the hill looking out to the waters of Bass Strait, scattered convict ruins and an old homestead are just a few of the stunning places to explore at your leisure. Stay in one of the B&Bs in the township and experience the true warmth and hospitality of the locals. Roaring fireplaces while tasting the great Tasmanian cheese and wines . . . just the perfect winter getaway! Especially if you come from the tropical north and long for the cold, crisp days of a real winter. Stanley in July is my pick for my favourite secret spot in Australia!
RELAXING AT CURRUMBIN
AT reader David Anderson from Lota in Queensland has a close encounter at the Currumbin wildlife sanctuary.
I'm a subscriber to your colourful and informative magazine. In fact, so much so that one of my daughters renewed my subscription – just to keep me dreaming, she says. But we've been dreaming and travelling since we came to Australia from England 17 years ago. Looking at this photo, you're probably wondering what the devil I'm on about. Well, we moved to Lota, Qld, 14 months ago. Not for a sea change, but for the fact we like the wide-open places, the shorter distances and the very pleasant disposition of Queenslanders. Also, it's more affordable to live near the sea and the greenery here than in Sydney.
At Lota we're surrounded by trees, home to myriad birds, and of course we have frequent visits by possums. Where else but Lota in Queensland? And we don't just hang around here. We do get around, at the Queensland pace: "Relax, it's Queensland" is a very apt phrase, which is sometimes carried out to extremes – even by our native kangaroos.
Last week we spent a few nights at Burleigh Heads. We recommend it to anyone who doesn't want the commercialism of Surfers and is still close enough to get there. However, we wanted to revisit Currumbin Wildlife Sanctuary, which I'd last seen about eight years ago. Once again, for anyone who's around these parts, it's a must to visit. You can't stroll through Currumbin Wildlife Sanctuary without saying hello to the Kangaroos, which is what we did. This photograph takes the meaning of the term "relax" to new heights.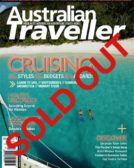 Enjoy this article?
You can find it in Issue 15 along with
loads of other great stories and tips.