Natural wine is the drink of the moment, but why is it so popular and what is it exactly? Freya Herring investigates.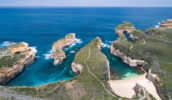 Natural wine – coloured in tones from palest yellow to neon orange and oily black – tastes like a completely different drink from regular wine; something more akin to roughly hewn, cloudy Norman cider than fermented grape juice.
"Natural wine has stronger, aromatic profiles," explains head sommelier at Sydney's Automata restaurant, Tim Watkins. "And the flavour changes much more dramatically when you taste it with food."
Because the thing is, although all wine is made from grapes, not all wine is strictly 'natural'. In fact, to get those crystal-clear, super-smooth wines you're used to drinking, chemicals have to be added throughout the process – from insecticides on the grapes to the addition of sulphur to preserve the fermented juice.
Natural wines are different. More accurately called 'minimal intervention' wines, winemakers use as few chemical and artificial processes as possible, and follow organic and biodynamic practices – from grape to bottle.
But this isn't a hippie movement; it's not really about the values of health or ethics. Natural wine is a whole new kind of drink – and it's the trend of the moment.
Any restaurant worth its salt includes at least one natural wine on its list – Watkins estimates that at Automata, over 60 per cent of the wine list could be considered natural.
Watkins got into it a few years ago while he was in Europe, right at the point when many wineries, too, were starting to foster the art.
"I was meeting winemakers who had started learning in the traditional way and then began questioning it," he says.
"The idea of someone saying: 'But why do we have to do that?' intrigued me. Once upon a time we didn't add chemicals to wine at all." Indeed, natural wine is what wine would have tasted like hundreds of years ago – you're drinking history.
It is in this way that natural wines feel more rustic, pure, authentic. Many natural wines are innately fizzy, and some of the boldest ones are unfiltered, making for a cloudy appearance. Some even taste a bit like mushrooms (in a good way).
Natural wine is a movement of experimentation, of youth and of history. Although legendary winemakers such as Vanya Cullen of Margaret River's Cullen Wines have been following biodynamic and organic practices for some time now, the new generation of winemakers are producing drops that are both adventurous and challenging.
Richie Harkham, of the Hunter Valley's Harkham Wines, wanted to make wines like that of his grandmother, Aziza, who grew grapes and made wine the traditional way in Israel.
In contrast, in 2013, architect David Caporaletti established natural winery Architects of Wine in the Adelaide Hills as a hobby; now his textural chardonnays are served at some of Australia's best restaurants.
One of the things that makes natural wine so special is that no two bottles are the same – fermented with wild yeasts, the flavours and textures change as the wine is aged, so you can open a bottle one week and it might taste light and fruity, and then open one from the case a month later and it's completely different.
That's the joy of natural wine – the play, the fun, the risk; and most of all the explorer's spirit that is at its very heart.
Because who wants consistency anyway? That would just be boring.
More to sample…
→ Journeys deep into Canberra's wine country
→ Tasmania's Whisky Trail – a quest for liquid gold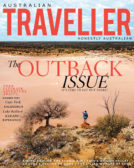 Enjoy this article?
You can find it in Issue 73 along with
loads of other great stories and tips.