A selection of terrific Australian travel ideas for summer holidays with the children in tow.
Simple, absorbing and with as few sharp edges as possible – all essential factors when designing a holiday with the little ones. Here's a selection that can't miss.
By Suzi Petkovski and Alison Plummer Martin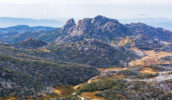 For holidays with kids, the travel checklist goes something like: attractions and activities packed into a smallish region to avoid long trips; a range of kid-friendly eateries or self-catering options; a choice of self-contained accommodation such as apartments and cottages that two or more families can share; and since we're talking summer, a mild, changeable climate. Here are a few destinations offering fun in the sun for kids and former kids alike.
Gippsland Lakes Victoria
Lakes Entrance (www.lakesandwilderness.com.au) is the jumping-off point to this watery paradise for kids. The confluence of five rivers, coastal lakes and the sea, the Gippsland Lakes form the largest inland waterway in Australia.
A narrow finger of sand separates Lakes Entrance from the bracing Ninety Mile Beach. In between is a channel with calmer, warmer water, where you can hire pedal-boats, aqua bikes, catamarans and other craft. A cruise through the Lakes is a must, with optional stops at waterside Metung and Paynesville, and Raymond Island, for its koalas. Low-rise, mostly no-frills accommodation (about a dozen caravan parks and lots of motels) takes you back to the Aussie holiday of yesteryear – it's all happening outdoors here, and the weather usually obliges. The region is known as the Victorian Riviera because it's often the sunniest place in the state. Unlike the Great Ocean Road beaches or the cramped holiday parks of the Mornington Peninsula, you can have a very deep outfield for beach cricket games here.
Excursions include Marlo, 15 kms south of the Princes Hwy from Orbost, where the Snowy River joins the sea. Trail rides follow the river farther upstream. Buchan, in the foothills of the High Country, has limestone caves that would thrill Indiana Jones. The vast Croajingolong National Park to the east sprawls across 1000 kms of coastline. Camping, fishing, surfing, boating and wildlife watching are the main activities, along with a visit to the Cape Hicks Lighthouse, 43 kms from Cann River. The isolated inlets at Bemm River, Tamboon, Wingan and Mallacoota are delightful.
Magnificent Melbourne
Know what? A city break could be the answer for your family holiday, with older kids using family passes and day passes to cut costs. Take Melbourne, where a Smartvisit Card gives access to more than 50 attractions, including Melbourne's Zoo, river cruises, Observation Deck, Museum and much more (www.seemelbournecard.com). At the Melbourne Museum, check out the illegal bugs taken at customs, or visit the MCG to learn more about our cricketing and AFL heroes, as well as the plethora of Commonwealth Games exhibitions and activities now in full swing. Need more things to do? The Phillip Island Grand Prix Circuit visitor centre has motor sport memorabilia with video footage and photos from 1928 to the present day, a viewing area to capture the excitement of race day, as well as a replica winner's podium for holiday snaps. You can also join Real Melbourne Cycle Tours (www.byohouse.com.au/biketours) on a city-to-the-beach bike ride or – one for the fashion conscious – go discount shopping at the DFO in Cheltenham (www.dfo.com.au), the largest factory outlet in the country.
Sapphire Coast NSW
Picking one location on the NSW South Coast is like taking just one goodie from the dessert cart. The Sapphire Coast (www.sapphirecoast.com.au), stretching from Bermagui in the north to Eden in the south, is dotted with idyllic family getaways. This lushly beautiful landscape of rocky coastlines, wide sandy estuaries and coastal lakes is ringed by forest hinterland and superb national parks: a heavenly meeting of intense greens and blues. Tranquillity comes not just from the scenery but the climate (low humidity), the absence of polluting industry and the relative isolation. Until well into the 20th Century, the main link to Sydney was via sea – Tathra's old wharf is the last remaining steamer wharf on the NSW coast – and the region is still a good six hours' drive from Sydney, seven from Melbourne and three from Canberra.
Cuttagee Lake and Beach, eight kms south of Bermagui, offers sheltered swimming for kids. Lake Wallaga National Park, eight kms north, is rich with Aboriginal relics and best explored by boat. The Yuin people conduct 4WD tours and lake cruises; ask at the Umbarra Cultural Centre just south of the Princes Hwy. Tathra, about 70 kms south, is Bega's beach retreat. The Bega River empties into Mogareka Inlet north of town. This kids' playground has shallows to splash in and watercraft for hire. Also north of town is Tathra Beach, one of many surfing spots. Tathra's historic wharf and maritime museum dominate the waterfront. North of town is Mimosa Rocks National Park – great for walking, water activities and wildlife watching. Rangers are around in summer. South of town is Bournda NP, with Wallagoot Lake, another good swimming spot for kids.
Merimbula, 23 kms south, is the largest of the South Coast towns, with a population of about 4500. It has the full enchilada: a bay, an exposed headland and a coastal lake formed by the Merimbula River, plus an aquarium and the Magic Mountain Recreation Park, with waterslides, pools and a toboggan run. As the most developed of the local towns, Merimbula has the full range of accommodation, from foreshore caravan parks to hundreds of holiday apartments to cottages in the hinterland.
Eden, 19 clicks down the coast, is set above horseshoe-shaped Twofold Bay. Whaling, which began in 1791, created the town, as ships sheltered in the aptly named Snug Cove. The first whaling station on mainland Australia was established in 1828. The Killer Whale Museum, and the remarkable story of Tom the killer whale, is still the big draw, though whaling has long given way to fishing and whale watching (from October to November, although some stragglers can be seen in December). Sirens sound when whales are in the harbour. Alas, the family-friendly charms of the Sapphire Coast are no secret, and its summertime population doubles or even triples in places. Get your booking in soon.
Prepare to dive
The ocean is a magnet for kids and learning to snorkel and dive means they can enjoy it all the more. While the Australian standard requires kids to be 14 and over to gain an Open Water Dive Certificate, there are other programs they can join earlier in preparation. Robin Williams of Sydney's Pro Dive Coogee ([02] 9665 6333) says the programs are about building knowledge and confidence in the water. Pro Dive Coogee actually takes some kids from age 12 with the appropriate medical certificates – but all participants must be able to swim and be strong enough to carry the tanks.
The Australasia-wide Pro Dive (1800 820 820 or www.prodive.com.au) runs several PADI courses designed to introduce kids to the world of scuba diving, including use of dive equipment, breathing compressed air, safety procedures and underwater communication. The PADI Bubblemaker program is for ages eight to 12 to learn about scuba diving in a tank, while the PADI Seal Team is for kids aged eight years and older in the pool. For ages ten and over, there are the PADI Junior Scuba Diver or Junior Open Water Diver programs – but check individual dive centres for what's on offer.
Oldest town in WA
Albany's beaches (www.albanytourist.com.au) make a lot of places in Australia look deprived. You can laze on a different stretch of sand every day here, both on the Southern Ocean and inside majestic King George Sound, and get spoiled for scenery and personal space. Don't miss showpiece Middleton Beach, with its fantastic boardwalk around a wooded bluff affording views of islands and frolicking dolphins. The blindingly bright and beautiful Goode Beach, on the other side of the harbour, is another gem. Out east past Oyster Harbour toward Two People's Bay are the more exposed Little, Waterfall and Nanarup beaches.
If swimming is out – Albany's average summer temperature is 22°C, cooler than Melbourne's – the must-do is coastal Torndirrup National Park. Highlights include Natural Bridge, The Gap, The Blowholes, Bald Point and Jimmy Newell's Harbour – all close together or linked by easy walking trails. This is some of the
most dramatic coastline in Australia, if not the world.
Albany (locally pronounced Al– not All-bany) is chockers with handsome old buildings (befitting its status as the oldest town in WA), and there's a replica of the brig Amity, which brought the first settlers ashore in 1826. But the No.1 photo-op for kids is Dog Rock, which resembles a huge Labrador's head. Magical day trips include the Valley of the Giants Treetop Walk and Ancient Empire Walk, in the stately forests about 100 kms west of Albany, and the Stirling Ranges, 80 kms north. Bluff Knoll, the highest point, rewards the climber with sensational views up top.
Going for Gold
Not just about thrills and throwing up, theme park attractions on the Gold Coast include experiences such as the Shark Snorkel program at Sea World. A great way to see as much as you can is to buy a Three Parks Superpass with unlimited entry to Sea World, Wet'n'Wild Water World and Warner Bros Movie World for up to 14 days. Buying online can save you money (www.seaworld.com.au, www.movieworld.com.au, www.theme-parks.com.au, www.wetnwild.com.au, www.dreamworld.com.au), with current savings to be had on the Shark Snorkel Program, the Rock Pool Adventure at Sea World and a discount on a scenic flight with Sea World Helicopters. Check their website for offers included in the price of the Three Parks Superpass from December 1.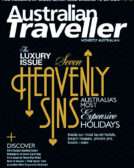 Enjoy this article?
You can find it in Issue 22 along with
loads of other great stories and tips.