Australia has more rock art than any other country in the world. Australian Traveller reveals the best places and the history behind them.
By Gail Liston-Burgess 
It was one of those days in Central Australia when the heat stings your lungs, lazy bush flies crawl around your mouth and eyes, and even that satisfying sip of lukewarm water from your canister is an effort. In the company of two Anangu elders, Jim Nyukiti and Johnny Tjingo, we were guided into a rock shelter at the base of Uluru.
Shyly the traditional owners introduced us to Tjukaupa, the foundation of culture and learning of the Anangu, as they explained the importance of the ochre rock art drawings covering the shelter's ceiling. It was only then that this myriad of dots and dabs above us became completely understandable, the spiritual context as significant as standing in St Peter's Basilica in Rome.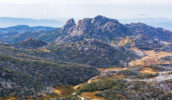 My husband and travelling partner, photographer Grenville Turner, lowered his camera, humbled by the moment. Were we doing the right thing? The two elders encouraged us to proceed. With some care, he resumed shooting.
High Art
Australia is the rock art capital of the world. It's estimated that over 100,000 sites, more than on any other continent, survive today containing paintings, drawings, and pecked and abraded engravings – some of the oldest-known artistic depictions by modern humans. For thousands of years the Aboriginal peoples across the country created rock art and engravings as manifestations of belief.
It was explorer George Grey who first recorded rock art by documenting the huge Wangjina figures of WA, paintings of such quality and aesthetic accomplishment that he couldn't believe they were the work of Aboriginals. In fact, at the time of early European settlement, Aboriginal culture was held in such low esteem that the simple figurative paintings and engravings were considered primitive and child-like.
Early settlers around the Sydney region, where some 4000-odd petroglyph (prehistoric engravings, rather than paintings, on rock) sites and more than 3000 rock shelters with pigment art have been identified, dismissed the sandstone engravings as nonsense, not appreciating their significance. It's only since the '70s that Aboriginal rock art has been recognised for what it is at its best: great art of world heritage quality.
"Viewing rock art is a very intimate experience," says Max Davidson of Davidson's Arnhemland Safaris. The retired buffalo shooter is quite vocal about just what is the right and wrong thing to do with respect to rock art. He should know; he's been conducting tours into Arnhem Land for decades with the approval and cooperation of traditional owners. "We ask that everyone show respect for the Aboriginal people that own the area and find out before you take pictures what is the right thing. It's just rude to take pictures anywhere without getting permission. You wouldn't walk into someone's house and do it, would you?"
The problem has been that most visitors do just that: venture into sacred sites and take pictures with no understanding of the implications. This is a culture that few outsiders comprehend. Complex and obscure, Dreaming law and stories have been handed down over the centuries verbally and through rock art. This source of stories and ceremonies – these representations of landscapes, plants and animals, art and rules for living – are closely guarded by the traditional owners. For instance, the Anangu in Central Australia believe their culture is degraded if images of sacred sites are captured or displayed. Other Aboriginal clans across the country feel exactly the same.
A simple parallel can be drawn, once again, to St Peter's Basilica in Rome. Visitation rituals are strictly applied – respectful clothing must be warn, photography is restricted and extreme quiet is called for, especially in the Sistine Chapel nearby – and for the most part these rules are cheerfully adhered to. The "Western" sense that you're visiting somewhere sacred is ingrained. You wouldn't in your wildest dreams consider stealing or destroying even the tiniest part of it. But that's just what's happening here in Australia.
Too see or not to see
"Approximately one-half of most rock art is sacred," says Robert Bednarik, convenor of the International Rock Art Association and recognised advocate for rock art preservation. "Some is restricted to males and some to females. The behaviour of tourists at rock art sites can be very destructive emotionally for Aboriginal people."
Over the past few years Bednarik has been particularly forthright about vandalism and destruction of rock art sites. For instance, in the Pilbara region, where some of the richest and most exciting rock engravings exist (especially the Burrup Peninsula near Dampier), there has not only been a startling increase in graffiti vandalism but major destruction due to excavation for industrial sites.
"This is an area of the world's largest petroglyph concentration and Australia's largest series of stone arrangements," says Bednarik. "But our heritage management practices have to be improved and in WA it's a basket case."
"Guides give you access to a lot of areas that you just would never see. We only get to hear the outside story. But with cultural tour guides you get the real story."
Like Bednarik, Colin Hughes from the Tasmanian Aboriginal Land and Sea Council is concerned about tourist activity at rock art sites. Only this year, Tasmanian police were called in to investigate a vandalism incident at a premier petroglyph site in the state's northwest. "What we'd like to see is that anybody who visits these sites does so with an Aboriginal person to tell them the appropriate stories for the sites they're visiting," says Hughes. "No photographs should be taken unless prior permission is obtained, no touching, scratching or reproducing of the images is allowed."
And Hank Horton, Indigenous operator of Tasmanian outfit Jahadi Tours, wholeheartedly agrees. "My first question would be: 'Why do you want to look at rock art?' Their answer would determine whether I'd take them. If they wanted to experience Aboriginal culture, feel the essence of the spirits and walk away with no photos, I would take them."
Just as we take a photograph to record our experiences, Aboriginal family groups used rock art to document their existence, spiritual beliefs and lifestyle. Sadly, since first contact with Europeans, this art form has all but disappeared. And as time goes by the stories are being lost. This means we have little or no direct evidence of meaning for some of the rock art, either because early settlers failed to record relevant ethnographic information, as in Sydney, or because the rock art tradition is of considerable antiquity, as in the Bradshaw art of the Kimberley.
"It's a sad truth that the Bradshaw's circuit of knowledge has been broken," claims Dr Garry Darby, specialist in Aboriginal art and lecturer at Sydney University. "At 17,000 years old, the Bradshaw sites are important and their preservation absolutely essential."
During the early days of tourism to Uluru, tour guides enhanced the experience for their patrons by tossing buckets of water over the delicate ochre paintings.
All areas of Australia with suitable rock surfaces have rock art, although in some (such as Victoria and southeastern Queensland), the number of known sites is small. Others, like western Arnhem Land, the Kimberley, the Pilbara, southeastern Cape York, the central Queensland highlands and the Sydney Basin, have enormous numbers of rock art sites of national significance.
In the past, ignorant visitors have damaged rock art by drawing graffiti, chalking or – in the case of certain Uluru sites – wetting the motifs to "improve" the imagery. During the early days of tourism to Uluru, tour guides enhanced the experience for their patrons by tossing buckets of water over the delicate ochre paintings. Today, visitors can only imagine how spectacular the faded imagery must have been. There have also been attempts, either successful or merely destructive, to remove motifs for private collections or commercial gain. Deliberate vandalism.
Leading by example
"I find that 99.9 percent of people are more than happy to do the right thing," says Martin Darcy of Discovery Ecotours. As the operator of Desert Tracks touring in collaboration with the Anangu of Central Australia, Darcy relies on the integrity of his guides to provide leadership during their tours.
"Guides have an inbuilt respect about what is the right thing to do, especially when it comes to photography," Darcy says. "We find under these circumstances that not too many people do the wrong thing, and when they do it's usually not deliberate – either they haven't listened or don't appreciate the interpretation for cultural significance."
While tourists can also stir up dust that settles on the art, destabilising associated cultural deposits, inadvertently touch and brush against the art, introduce micro-organisms to previously sealed caves and alter pigments by using photographic flashes in poorly lit areas, visiting special sites in the company of a guided tour limits the amount of damage that can be caused.
Jim Nyukiti and Johnny Tjingo began to redraw into the sand the very rock art images on the ceiling above their heads. Grenville was then allowed to photograph the experience. It's a privilege that few are granted.
"Guides give you access to a lot of areas that you just would never see," says Dean Goodgame of Kimberley Specialists. "There's an inside and outside story for all rock art and we only get to hear the outside story. But with cultural tour guides you get the real story. We find the traditional owners are happy to let people take photos as long as they respect the site, the traditions and know that it's okay not to take pictures in some locations."
An emerging aspect of the tourist industry has been the introduction of tours operated by Aboriginal communities in association with existing tour operators. At the Mimili Community in Central Australia and at Gunbalanya Community in Arnhem Land, for example, traditional owners coordinate tours to rock art sites. This is a growing trend across the Top End and in Central Australia.
"We educate our clients about restrictions on taking photographs, videoing or recording anything with Aboriginal people and sites," says Caroline Densley of Diverse Travel Australia. "Visiting remote Aboriginal lands and camping out with the elders is a special experience. We have a fabulous guide in Fitzroy Crossing who can take people into Windjana Gorge and Tunnel Creek and interpret both places from an Aboriginal perspective."
Earning the right to know
Sadly, the most common official ways of protecting rock art from visitors involve restricting access to sites and/or controlling the movement of visitors at sites. An easy and widely used method is simply not to tell the general public where rock art sites are. As Robert Bednarik said in a Sunday Tasmanian article following a recent large-scale site discovery (see box page 118), "Nothing will be reported until the government learns to protect its cultural heritage properly and until the custodians are satisfied that community attitudes to Indigenous culture have improved. It is likely that this find will be reported internationally well before the public of Tasmania earns the right to know about it."
In another extreme example, WA authorities do not promote any art sites as tourist attractions and withhold all location information from the public. In Tasmania there's a blanket moratorium on listing rock art sites because of the vandalism that has occurred in the past 12 months.
"Vandalism is a problem," says Densley. "And now many sites in National Parks are surrounded by fences so you have to peer through at the rock art like a monkey in a zoo, or they close them off to visitor access. Where the rock art is on Aboriginal land, they decide what art they're prepared to show tourists and the rest they keep private. We totally support this and respect their decisions and try and educate our clients about this."
More often, a few "sacrificial" rock art sites are developed, promoted and closely monitored, while others are kept safe by ensuring they do not appear on maps or official brochures. Allowing access tracks to deteriorate, declaring "restricted access" buffer zones, and so on also actively discourages visitors.
It's important to remember these areas remain significant to Aboriginal groups long after their makers have gone.
Experience at Carnarvon Gorge National Park has demonstrated how the public visibility of even heavily visited sites can be changed. Because of vandalism here, a decision was taken to salvage one of the three main galleries in the gorge from heavy visitation. All reference to the site was deleted from brochures and maps, the access track camouflaged, and the main track up the gorge rerouted to permit natural vegetation regrowth. This went hand in hand with active promotion of the other two "sacrificial" galleries, where structural changes had been made to cope with visitor pressure. Visits to the salvaged site dwindled surprisingly quickly.
The boardwalks and interpretive signs installed at Carnarvon Gorge National Park have been successful and have strongly influenced the planning of infrastructure at other rock art sites around Australia. These accessories are primarily designed to prevent people touching the art, stirring up dust and eroding archaeological deposits.
"With the kind of practices in place in the eastern states," says Bednarik, "most visitors don't realise that it's all laid out to protect the site. It's a subtle but effective way of monitoring visitor behaviour."
However, National Parks designed the boardwalks to blend with the setting and provide a gently sloping, safe access route, an attractive walk and a spectacular introduction to the art. Special photography positions were worked out after experimentation with camera shots using a range of lenses. Handrails help constrain visitor movement within the site, helping to keep the floors of the shelter free from litter and footprints.
Despite these efforts, some of the methods employed to protect rock art have been counterproductive. At the Rainbow Serpent Gallery at Ubirr, Kakadu National Park, the boardwalk railing obstructed views of the rock art motif, encouraging would-be photographers to stand on or cross the railing.
The key to understanding
Rock art means different things to different people and interest groups, who may have conflicting priorities on what's appropriate when it comes to protection and doing the right and wrong thing when visiting sites. Often initiated by locals, who want their rock art sites conserved and managed, it's important to remember these areas remain significant to Aboriginal groups long after their makers have gone.
To quote an unidentified Aboriginal community leader from Western Australia: "We must look after the images so that life on earth will continue."
But they also want to share the sites. Jim Nyukiti and Johnny Tjingo demonstrated that to us when they sat in a cave at the base of Uluru, lit a fire and began to redraw into the sand the very rock art images on the ceiling above their heads, so that they could share with us the stories of the Anangu people. Grenville was then allowed to photograph the experience. It's a privilege that few are granted.
"There are people in the Aboriginal communities who want you to know about their culture and their mythology," says Dean Goodgame from Kimberley Specialists. "Their form of communication is through the rock art. It reinforces their closeness with the land . . . something we've lost."
We may well have lost our closeness with the land, but a clear perception of the crucial role rock art plays in Indigenous life is something many of us never had, and still can't quite grasp.
Or to put it another way, and to quote an unidentified Aboriginal community leader from Western Australia: "We must look after the images so that life on earth will continue."
The artworks are that important. Once you begin to comprehend that level of significance, you're ready to step into another culture, one rich with history and beauty. And what's more, you'll be willingly invited.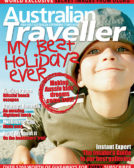 Enjoy this article?
You can find it in Issue 11 along with
loads of other great stories and tips.