When former Vogue staffer Sal Morgan returned to Australia, the birth of accessories brand NEO/PREEN soon followed. Here, she talks fashion, beaches and travel inspo.
Why did you create NEO/PREEN?
I wanted to create a product that would appeal to people all around the globe who are on the go, who start their day with a walk, a swim or by going to yoga or the gym. It's for people who need an accessory that takes care of the essentials, their phone, keys, cards and cash, and withstands sand, sunscreen, long-haul flights and weekends away.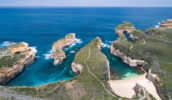 What was the design inspiration behind the range?
I wanted it to feel like summer all year long and have a sense of playfulness and fun. I wanted it to have a purpose, to be practical and provide a solution. NEO/PREEN can be used in a number of ways every day.
How did your experience in fashion help (or hinder?) the creative process?
Being able to call on friends that I had worked with in the fashion industry was a huge help. Sarah Jane Clarke (co-founder of Sass + Bide) was really encouraging and positive. I called on her and a few others after I did my first round of sampling to get their thoughts on the colours and design. The downside was knowing a little too much and thinking of all the ways it could possibly not work/go wrong!
What do you think is the unique appeal of NEO/PREEN?
It has so many purposes; it's so versatile. The large pouch can be used as an on-the-go clutch and is also fantastic for travel (toiletries and cosmetics or travel documents), and mums can use it for nappies, creams etc. The mini is for the essentials: phone, keys, cards and cash; teenagers love the mini for their iPhones. And if your toiletries or make-up spill or explode, you can just rinse your NEO/PREEN and leave it to dry and it looks brand spanking new! It's also at a price point that is affordable, and it appeals to both men and women.
Travel is obviously an inspiration for you and the range: what is your absolute favourite holiday escape, and which destination would you like to tick off your bucket list next?
I was based in New York and Los Angeles for 10 years, then worked for Vogue which provided me with so many incredible travel opportunities. Now that I'm back in Australia, I love exploring our beautiful country. The more time you spend away, the more you realise how lucky we are to live here. Give me a beach, a bikini, a good walking track and a great bar any day of the week. Bondi and Bronte are favourites, and I also love Byron and Burleigh. I'd love to explore New Zealand a little more, and I haven't yet been to the Maldives. It looks like a perfect shoot location for NEO/PREEN – that's after the Great Barrier Reef, of course.
How do you see NEO/PREEN developing and growing – what's next for the brand?
We have a few new styles currently in production that are fantastic for travel, and we are looking to expand globally into the US and UK. The sky's the limit!
MORE… Need some inspiration from other clever Aussies? Check out our Q&A with Nomad Sydney's co-founder Rebecca Yazbek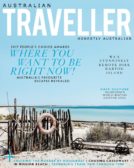 Enjoy this article?
You can find it in Issue 77 along with
loads of other great stories and tips.