Ezra Shaw captures images of The Simpson Desert Bike Challenge
Seasoned Getty images photographer Ezra Shaw has covered every major sporting event you can think of. But nothing could prepare him for the sheer descent into hell that is The Simpson Desert Bike Challenge.
One of the most talented and hardest-working sports shooters in the game, Ezra Shaw has been a staff photographer for Getty Images for more than a decade, with his pictures appearing on the cover and in the pages of Time, Newsweek, The New York Times, Sports Illustrated and hundreds of other publications around the world. He was there when Jordan retired (again). He once shot a Tiger winning the US Open. And he captured Phelps sweeping to a history-making eight gold medals in Beijing. He's also shot his fair share of feature stories, from keeping pace with Lance Armstrong on the Tour de France, to tracking the Iditarod through Alaska, and now to the very polar opposite of that freezing, blistering moonscape: The Simpson Desert Bike Challenge.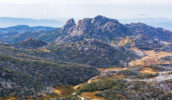 Billed as "the toughest mountain bike race on earth", 2007 saw the 20th anniversary of the gruelling Simpson Challenge – a five-day race that traverses almost 700 dunes, across vast saltpan and gibber rock fields during the nine-stage, 592km course. Shaw's resulting coverage saw him nominated as a finalist for a 2008 Australian Sports Commission Award, and in the same year he was also a finalist for the coveted 2008 Nikon Walkley Award for Sport Photography.
Having moved to Sydney from New York in 2005, to "give Australia a try for a year", Shaw saw that one year become three as his love of the landscapes (and the lifestyle) took firm hold. Now he's set to return to the US to once again cover the frenetic world of sport for Getty – this time from San Francisco. His work in Australia will be sorely missed.
For more from Ezra Shaw's portfolio, check out www.gettyimages.com and www.ezrashaw.com
Under A Blood Red Sky // Competitors must maintain a speed of at least 12km per hour or be disqualified for each stage – although they're able to resume at the beginning of the next stage. 2007 was to prove an unusually tough year, with cyclists battling strong headwinds and 50-plus temps. In fact, of the 17 riders who entered, only two were able to complete100 percent of the course.
Gibbering Wreck // Mathew Dickerson from Dubbo, NSW, keeps himself carefully hydrated as he crosses across a field of gibber rocks on day four. Dickerson finished a capable fourth and completed 89 percent of the course, but at this point he's just thinking: survival…
Just What Can Surive Out Here? // Queensland's Bruce Wood passes the desiccated remains of a camel carcass on day three. Wood, who has the overall race winner, made a last-minute decision and didn't tackle the Challenge – he called the organisers one week before the start and asked if it was too late to sign up. Their response? If you're crazy enough to make the effort, then go right ahead…
A Brief Moment Of Respite // Once the sun subsides, it's time to iron out the kinks and conduct makeshift repairs to battered bikes and bodies. Here, a member of the support crew for WA's Ryan Hyde works on his bike in the dead of night. Far from a time for reflection, though, these clear desert evenings are a precious chance to replenish mental and physical reserves for the next brutal day's punishment in the saddle.
Thirsty Work // Kathleen Moylan from Alice Springs takes a long pull from her water bottle at the first water stop during day two. This was to be her first Simpson Desert Bike Challenge, and she was one of only two women to participate in the 20th anniversary event. She finished an astonishing seventh overall, having completed 83 percent of the course.
One Dune Down, 699 To Go // An exhausted Matthias Axt from Castle Hill, NSW, practically wills his bike up a steep dune on day three. He would eventually finish third after completing 94 percent of the spirit-crushing course in a time of just over 47 hours hard riding.
The Sweetest Victory Of All // Bruce Wood waves deliriously as he crosses the finish line on day five outside the iconic Birdsville Hotel to win the 2007 Simpson Desert Bike Challenge. At 57 years of age, his win (at two seconds shy of 38hrs 47min) made him the oldest victor in the 20-year history of the endurance race.
Dusty Desert Rise // Kathleen Moylan experiences a bit of downhill relief in front of a support convoy. She managed to successfully traverse 491km of the 592km course, and she did it in 52 hours, three minutes and 12 seconds – more than 13 hours behind Bruce Wood, the 2007 race winner.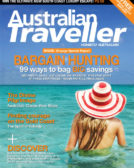 Enjoy this article?
You can find it in Issue 25 along with
loads of other great stories and tips.