It's never been easier to take the perfect self-portrait with Samsung's new point and shoot camera. The ST550 removes the guess work – there are LCD screens on the front and back of this baby. By Lisa Perkovic
A few years ago we couldn't get enough of cameras where the screen flipped around and you could see yourself. It turns out staying behind the camera and appearing in it at the same time is lots of fun. The ST550 is the first digital camera using "dual screen technology". The packaging says it all – large pictures of young people having fun with the funky front screen showing the main target audience. So we sent this camera off for a test drive with two women on the AT team, instructing them to go out with friends and have some fun.
A camera's best bet for surviving a night of hard partying is having a sturdy body, great specs and stamina. The ST550 is small enough to fit in a pocket or purse but has enough bulk to it to withstand a few bumps and bruises.
The 12.2 megapixels and 4.6 x zoom lens take good images, considering the majority were shot at night, one handed while trying to set up self-portraits. Large LSD screens are likely to drain the battery and a night of testing out the screens on front and back did suck the juice out of this model.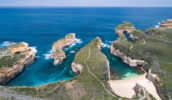 You can choose not to turn on the front screen but where's the fun in that? Angling the camera is a little challenging at first but once you've got the hang of it, the screen ensures everyone is in shot every time.
This nifty feature is not just for the pubs and clubs – the solo traveller need never return home without any photos of themselves. Now you can prove you were ten feet in front of the Eiffel Tower without having to ask a stranger to snap a shot.
The ST550 does have some other things going for it. The standard features are all there: 720p High Definition movie capture and camera to computer image transfer.
The LSD screen on the back is a touch screen, so apart from a play button on the body of the camera, everything else is adjusted on the screen. Like many point and shoots, there's no viewfinder, which can cause some problems in bright sunlight, but our bet is this camera will be used more at night.
Details: RRP $449 Available in a variety of colours. www.samsung.com.au