Ski resorts – What they say … and what they really mean
Don't believe snowfields propoganda. Here's a primer to help you sort the puff from the powder.
By David Heazlett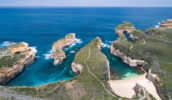 They say
This has been a fantastic start to the season
They Mean
There hasn't been any snow yet, but this is the most expensive promotional campaign we've ever run
They say
This is the best snow we've had all season
They mean
This is the only snow we've had all season
They say
Skiing is a great sport for any family
They mean
Skiing is a great sport for any family that owns a ski resort
They say
These are fantastic spring skiing conditions
They mean
Most of the snow has melted, leaving some ice and exposed tree roots, rocks and the occasional empty beer bottle
They say
The outlook for the weekend is great
They mean
If we don't get more people here for the weekend our financial outlook won't be so great
They say
Over thirty centimetres of fresh powder has fallen overnight
They mean
We use an L-shaped ruler to measure snowfall – and we sometimes add a zero when no-one's looking
They say
Conditions are a little bit icy in patches
They mean
Please place your preferred orthopaedic surgeon on stand-by
They say
It's best if you rug up, as the temperature has dropped slightly
They mean
It's several degrees warmer in your freezer at home than it is out here
They say
It's probably best to stick to the main runs
They mean
We expect to recover the bodies of a number of off-piste skiers sometime in the spring
They say
Our artificial snowmaking machine have been working all night
They mean
Our media machine has been working all night on an artificial snow report
They say
Snowboarders and skiers really co-exist in harmony in this resort
They mean
Snowboarders and skiers are separated by electrified barbed wire and are forbidden from fraternising during daylight hours
They say
Lots of fresh falls are forecast this weekend
They mean
Lots of people will hurt themselves this weekend
They say
Facilities for snowboarders have been enhanced
They mean
We have the latest model x-ray machine and a new emergency surgery ward on site
They say
Annual price rises for lift passes have been modest
They mean
The price of a daily lift pass is now equal to the down- payment on the latest home entertainment system
They say
This is a great way to spend the school holidays
They mean
This is a great way to spend the whole school holiday budget
They say
We have a great new crèche for kids
They mean
We have the highest hourly rates for baby-sitting in the Western world
They say
Our instructors cater for all levels of ability
They mean
Our instructors possess all levels of ability
They say
The best way to improve your skiing is to spend a season down here
They mean
The best way to improve your skiing is to spend your life savings down here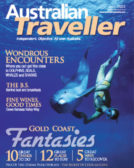 Enjoy this article?
You can find it in Issue 3 along with
loads of other great stories and tips.