Looking beyond the AAA star rating when booking accommodation on the internet.
Star-Crossed On The Net
By now you'll have realised that star ratings alone do not make a holiday experience – you have to look beyond the stars.
You've also got to look beyond the way the info is presented to you on the internet, at sites like lastminute, needitnow, quickbeds, and the daddy of them all, wotif. Huge numbers of people wouldn't dream of booking their accommodation any other way, given the convenience and the chance of real savings – but it can be a deflating experience if you don't know your way around.
The problem is that if you go searching on the web for accommodation, you'll get a mass of listings that don't distinguish between different types – for example, hotels, serviced apartments and guesthouses. Why does that matter? Because the criteria for star ratings under these different categories aren't the same.
Check it out. Go to www.wotif.com and search for 5 STAR rooms in the Sydney CBD. You'll get a couple of dozen listings, including the Intercontinental Sydney. It's a hotel, which means under the criteria for five stars, it'll have a variety of room styles and suites, choice of restaurants, 24-hour room service, housekeeping, valet parking, porterage, concierge services and a dedicated business centre. The Intercontinental also happens to have a bar lounge, gym with spa and sauna, currency exchange service, rooftop Executive Club lounge, etc etc. Classy.
Under the same 5 STAR listing you'll find the Medina Grand Harbourside. It has plenty of good stuff like a gym and pool and sauna, but no bar, concierge, currency exchange or choice of restaurants, and only limited room service. Why? Because it's not a hotel but a serviced apartment – a fact you don't uncover until you click through and read the details. Nonetheless, under the serviced apartment criteria, it qualifies for five stars.
And again, under the same 5 STAR listing, there's the Manor House Boutique Hotel. It has no concierge, no currency exchange, no room service, no gym/sauna/spa/swimming pool or child minding or disabled facilities. But the site seems to be saying it's a hotel. Actually, if you go to the AAA tourism site at www.aaatourism.com.au and do a search, you'll find the explanation: it's not a hotel but a guesthouse. And under guesthouse criteria, it qualifies for five stars.
Confusing? Yes. But it's not AAA's fault. If you were to do the old-fashioned thing and buy their comprehensive accommodation guide, you'd find it makes everything absolutely clear: the type of accommodation you're looking at, and the criteria under which it's judged. But who buys books these days? Do yourself a favour and grab a copy.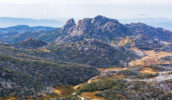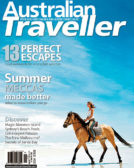 Enjoy this article?
You can find it in Issue 12 along with
loads of other great stories and tips.