New dad MARK DAPIN has a pram problem on the Gold Coast, but it's nothing a night out with the gang won't put right.
I hate waiting in airports, and I firmly believe each passenger on a plane has his or her individual boarding time. Forget about turning up two hours before an international flight or an hour before a local service: a seasoned traveller knows their personal boarding time will be announced over the tannoy, about 15 minutes before their plane is due to take off. The wording is usually something like: "Will Mark Dapin please proceed to gate four immediately."
When this happens – assuming your name is Mark Dapin – it's time to put your magazine back on the newsagency shelf and run to gate four. I say "run" because you will invariably be browsing the newsagency outside gate 28.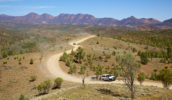 If you follow the individual boarding time model, you'll always keep fit and never be bored. The downside is, you will occasionally miss your flight.
My girlfriend and I recently took our baby son on his first plane – a Jetstar flight from Sydney to the Gold Coast, where we planned to stay in a chalet with my mate. The small print on the air ticket said we'd have to turn up two hours before takeoff if we wanted to take a pram on board, and we'd need to have the pram packaged ourselves. The thought of waiting at the airport for two hours with a baby without a pram was as appetising as nailing a siren to my ear, strapping two footballs to my belly and walking on a treadmill for 120 minutes while spooning warm custard down the front of my shirt.
I decided we could hire a pram on the Gold Coast. Google found me a company called Hire For Babe, which has a franchise in Burleigh Heads, and the nice lady asked me a number of technical questions I couldn't answer, like: "What kind of pram do you want?" We ended up with a big Steelcraft stroller totalling $50 for the week.
At Sydney Airport, I noticed a young father pushing a baby in a stroller. Once you're a parent, you can ask another parent anything, so I walked up to him and said, "Can you please tell me what sexual position you and your wife used to conceive that child?"
Okay, so I didn't – but I did ask him how come he hadn't checked in his pram.
He was flying with Virgin, he said, and they let you wheel your stroller all the way up to the gate. I don't like Virgin. The staff are too cheerful, the planes look like toys and, if his airline's so good, why does Richard Branson go everywhere by hot-air balloon? And what the hell is he grinning about, anyway? However, Virgin's definitely got the jump over Jetstar on the baby thing.
We joined my mate, his wife and their baby at Oskars on burleigh, a restaurant so high-class that the last two words only appear in lower case. The food was pricey (yellowfin tuna steak, garlic creamed potato, salsa verde, $28.50) but nice; the service was slow and irritating; the view across the ocean beach was postcard perfect; and anyone who decides to have a long, boozy lunch at a classy restaurant with two babies in prams must have a brain made of fashionably soft polenta.
After we fled Oskars screaming, we couldn't get the hired pram to collapse. "We" on this occasion included me, my girlfriend, my baby son and eight Vietnamese people, only half of whom spoke English. They were extraordinarily helpful, both by nature and because four of them wanted our parking space. They had no idea how to fold away the stroller, and eventually accomplished it using brute force. When we got back to the chalet, we found the pram was broken.
We eventually mended the pram. "We" on this occasion did not include me, my girlfriend, my baby son or any Vietnamese people. My mate's wife sorted it out by reading the instructions in the manual. It turned out it wasn't broken at all; it was just that we were stupid. "We" on this occasion included everyone but my mate's wife.
We went away for three days. Of this time, a total of three hours were spent packing, two hours unpacking and about six hours trying to calm down our baby or get him to sleep. Another entirely separate six hours were spent trying to calm down my mate's baby or get him to sleep. We probably wasted three hours working out how the pram functioned, and another two hours shopping for baby gear we'd all forgotten. Subtract the time we spent cooking, cleaning, changing babies, bathing babies and feeding babies and we had 35 minutes of relaxing holiday, which me and my mate managed to grab at a bar in Surfers called Mumbo's, in the middle of an indoor food court at 7pm.
Around the corner from Mumbo's is a strip joint called Players Showgirls. I love all the nightclub signs telling you what you can't wear: No Singlets, No Hats, No Thongs – even though the number of fights ever started by blokes wearing thongs could be counted on the bruised toes of one foot. The sign outside Players bans all the usual iconic Aussie gear, plus bikie colours. It even says: No Gang Names. What could that mean? Would they refuse
you entrance if you're called "Scarface"?
I phoned them to find out.
Cindy: "Hello, Showgirls, this is Cindy."
Me: "Hi. Would I have to book a table if a gang of us comes in after midnight?"
Cindy: "Um, no, not a problem. Just come up to the door."
Me: "It doesn't matter how many of us there are?"
Cindy: "Er, no. How many are there?"
Me: "Me, Knuckles, Skull, The Guvnor . . . about ten."
Cindy: "Yeah, sure. Not a problem. We'll see you there."
It was the second time I'd been to the Gold Coast in a year. A few months before, I'd arrived as a one-man peacekeeping force in the War of the Aunties, one of the longest-running conflicts in human history. It has raged across the world, from England to Israel to Australia, and is now believed to be in its 65th year.
The most recent hostilities broke out when my co-youngest auntie (she's a twin), who lives in England, visited my oldest auntie, who lives in Brisbane. The oldest auntie demanded to know why the co-youngest auntie had suggested she have breast-reduction surgery. This incident happened in Jerusalem more than 30 years ago – or didn't happen at all, as my co-youngest auntie claims – but is as real today for the aunties as the Potato Famine for the Irish, or the Superleague War for the South Sydney Rabbitohs. I flew to the Gold Coast to safehouse my co-youngest auntie in the chalet (which is owned by my girlfriend's parents) while the heat died down.
I love both my aunties, and I love the Gold Coast, but I loved the firm-but-fair voice at Coolangatta Airport, telling me it was time to board my flight home, more than I love beer itself.
Well, almost.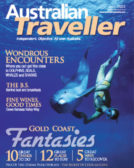 Enjoy this article?
You can find it in Issue 3 along with
loads of other great stories and tips.