The classic Boys' Weekend Away is a near-sacred tradition. Often difficult to negotiate with partners and loved ones, they are hard earned and come at a high cost – in brownie points at the very least. Here then is a little Mancation inspiration: the best of the best of boys' weekends in Australia. So unwind, enjoy, and remember . . . it's all in the name of manly fun. Words by AT Staff, edited by Craig Roberts
The Ferrari 360 Challenge Stradale, stripped out to give it a better power-to-weight ratio (because Ferraris really need that) is so quick you'll inevitably hit the next corner before you can fully open the throttle. This hi-octane chariot can go zero to whoa in a manner that proves the atheists wrong and Jeremy Clarkson right . . . Ferrari is a scaled down version of God.
If every weekend away were to involve some kind of boyhood fantasy, and you always hankered to drive a cost-of-a-house-car, then Octane Supercar Events could just about be the perfect way to kill yourself with kindness. Octane offers a simple concept: drop $1300, meet at a preordained rendezvous and soon after a procession of exceptionally expensive performance vehicles mark their entrance with a snarling symphony of pistons. Then, stupidly, someone hands over the keys.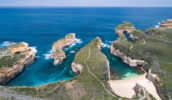 Okay, there's a bit more to it than that. Each Drive Day commences with a serious briefing: how to drive the cars; where to put the key; how to actually get into gear (and the car); and how to behave while driving. Yes, we're all imbeciles. Luke, our leader for the day, intones: "No overtaking each other, no revving in neutral at the lights." Basically, don't drive like a dick.
This hi-octane chariot can go zero to whoa in a manner that proves the atheists wrong and Jeremy Clarkson right . . . Ferrari is a scaled down version of God.
Octane is fanatical about their driving and chooses some fantastic public roads (where your licence is still at stake) with lots of tight bends, plenty of hills and very few cars impeding your progress. It's easy to understand why they drive on a Tuesday morning.
But, Ferrari aside, how do the other cars handle? The Lotus Exige S is no spring flower, but a purring beast built with claws of vulcanised rubber. It takes corners at "undisclosed speeds", never relaxing an ounce of acceleration and plasters passengers to the window while garnering better traction on bitumen than Madonna gripping an African orphan. The Lamborghini Gallardo Spyder simply eats the road. It's a low-riding road train that dominates the entire lane with an engine that screams at traffic to get out of the way – never once bothering to leave behind an apology. Meandering into the picture comes the Aston Martin V8 Vantage. Not so much a performance car as it is the Melbourne Club on wheels. Luxurious, powerful and elegant, it doesn't feel right to not be smoking a cigar inside its doors.
If someone is mad enough to give you the keys to a million bucks worth of car for the day, you have a duty to take them up on it. For $1300 that's actually a bargain.

Brag Factor // Didn't you just read the article? For more convincing go to www.australiantraveller.com/octanesupercar
Partner Pitch // "It's this or we sell the house and I buy one for myself. Your choice."
Details // Octane Supercar Events available in Sydney, Brisbane and Melbourne (www.supercarevents.com.au, 1 300 798 900).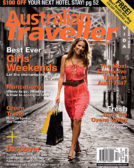 Enjoy this article?
You can find it in Issue 28 along with
loads of other great stories and tips.