Take your kids on the holiday tour of their lives with these sweet chocolate-lovers tours in Australia
"Swim in a chocolate river."

For those with a Sweet Tooth
Floating down a river of chocolate is the ultimate kids' delight, with winning a golden ticket to Willy Wonka's Chocolate Factory probably a close second. Pretty tough to manage, though, unless of course you're an Oompla Loompa, Charlie Bucket or Alice in Wonderland. Not to worry, Australian Traveller has found a few spots that might satisfy your kids' (and your) cravings.

"I would like to swim in a chocolate river like on the Cadbury ad."
– Kate, aged 4, Unley SA
"To go to Fiji because there would be a chocolate sea there and I would go swimming in it every day. I would go to a theme park and go on a rollercoaster that goes into the water and it goes really fast. I would eat lots of lollies. I would invite all my friends over for a sleep-over."
– Amy, aged 7, Narrabeen North NSW
"I would like to stay at Charlie's Chocolate Factory for a week and eat every chocolate there, except the ones with nuts."
– Matthew, aged 9, Prospect SA
"Candy land!"
– Thomas, aged 6, Pacific Palms NSW Chocolate Overboard
The classic chocolate experience, that dream of swirling around in chocolate whirlpool, seems out of reach. But AT can almost bring the daydream to life – the Cadbury Schweppes Chocolate factory in Hobart is as good as you're going to get. The sweetest journey begins onboard a boat in Hobart Harbour, which gently cruises down the Derwent River, docking on the picturesque Claremont peninsula. Here stands the Cadbury castle. The fascinating 1.5hr guided tour has samplings and explanations on the art of chocolate making, and at the end there's an opportunity for further indulgence. Chocs are for sale on the property, so stuff your little pockets before leaving the lustrous land and casually cruising back to Hobart.
phone: Claremont Cadbury 1 800 627 367
phone: Cruise Company (03) 6234 9294
Candy Cow
Delight your senses as you watch honeycomb, fudge and nougat being made: the aromas are more-ish and the tasting is free. Candy Cow in WA's Margaret River became well known through its extensive range of exclusive sweets and candies. Surrounded by green rolling hills and pristine beaches, this seems to be the perfect place; a world of its own. WA's favourite sweets manufacturer is a massive family drawcard. Be sure to taste the freshly made honeycomb "flavour of the day", or one of 132 different sweets available in store. What's not to love?
phone: (08) 9755 9155
website: www.candycow.com.au
Haigh's Chocolate Factory
Forget having to win a golden ticket. You can just stroll right into Haigh's Chocolate Factory in Adelaide. Open for free daily tasting tours, it's the most delicious half hour you'll experience. Haigh's is one of the few specialist chocolate retailers in the world to make chocolate from a raw cocoa bean, and even for grownups, visiting Australia's oldest family-owned chocolatier will ignite a sense of childlike excitement and the need to gobble everything in sight. The original retail store is located on the busy Rundle Mall boulevard, while the factory is five minutes away in Parkside.
phone: (08) 8231 2844
website: www.haighs.com.au
Raw Sugar
For the lolly lover, Raw Sugar is the playground you've got to get to. Producing custommade candies around the country, your kid will be in seventh heaven meandering around these little lolly lands. Create the greatest ever birthday gift for your pals: just think of something special, place an order and watch it being made right before your eyes. With brightly displayed stores and friendly staff, this colourful space sells toys, gourmet products and treats to thrill. Don't leave without buying the best-seller, the fruit salad mix.
original shop: (08) 8410 8000
website: www.rawsugar.com.au
WANT FIVE MORE?
Don't forget these other great ideas for kids:
1. Chocoholic Tours, Melbourne (03) 9815 1228, www.chocoholictours.com.au
2. Koko Black Chocolate, Vic (03) 9354 0720, www.kokoblack.com
3. Melba's Chocolates, Woodside SA (08) 8389 7868, www.melbaschocolates.com
4. Margaret River Fudge Factory, WA (08) 9758 8881, www.fudgefactory.com.au
5. Walker's Candy (08) 9275 5451 www.walkerscandy.com
EVEN MORE ESSENTIAL WEB-EXCLUSIVE LINKS
1. Mammino Macadamias and Gourmet Ice Cream, QLD (07) 4126 2880
www.mammino.com.au
2. Pinocchio Inn Restaurant, VIC (03) 5155 2565
3. The Cuckoo, VIC (03) 9751 1003
www.cuckoorestaurant.com.au
4. Gladesville Hotel, NSW (02) 9816 4444
www.gladesvillehotel.com.au
5. Allys Indulgences, VIC (03) 9499 7785
www.allysindulgences.websyte.com.au
6. Gourlay's Sweet Shop, TAS (03) 6331 4053
7. Superbee Honey Factory, QLD (07) 5445 3544
www.superbee.com.au
8. Tropical Fruit World, QLD (02) 6677 7222
www.tropicalfruitworld.com.au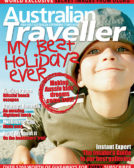 Enjoy this article?
You can find it in Issue 11 along with
loads of other great stories and tips.