For all the Water Babies: here is the list of places to take the kiddies swimming, as told by kids
If your budding marine biologist says he or she wants to swim with the denizens of the deep next holidays, you're definitely living in the right country. There are literally hundreds of operators out there waiting to take your family out for a face-to-face encounter you'll not soon forget. And best of all – as three-year-old Sophie from Torrens Park most wishes for – when it comes to dolphins, they will talk to you. Whether you can understand them is another matter entirely . . .
"I would like to go under the sea and swim with dolphins and see if they'll talk to us."
– Sophie, aged 3, Torrens Park SA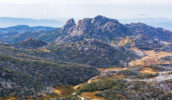 "Go to the Barrier and swim in the ocean with all the animals. Last time I went I was six and I saw a barracuda, a giant cod, clown fish, and I had a fun time. I swam on my own with my mum. I had a snorkel and flippers and a wetsuit. The water was pretty warm. I would also like to go to the rainforest in Port Douglas, where I could see birds, especially the cassowaries."
– Oliver, aged 7, Hurlstone Park NSW
"I would like to stay in a fancy hotel that overlooks the ocean so I can get up in the morning and watch the sunrise. And then go to a private tour of an aquarium and swim with the sharks and all those little sea creatures. Well, that's my ultimate Australian holiday, hope ya like it."
– Madison, aged 14, Meadow Springs WA
"My best holiday would be going to South West Rocks where there was a barbeque on the beach. I would like to be able to camp out and go to the rocks and try to catch a crab. Go down to the beach every day and get my boogie board and ride the waves."
– Liam, aged 9, Summer Hill NSW
"My best holiday ever would be to go and see all the things I have seen pictures of or read stories about. For example I would love to see Ayres Rock and the Barrier Reef. At the Barrier Reef I'm going to see all the colourful fish. At Ayres Rock it's so big that I'm just going to stare at it until I'm dizzy."
– Anna, aged 7, Ashfield NSW
Swim with dolphins
Where to begin? There are 7000 beaches in Australia, and a good many of them are drop-in spots for our smiling dolphin pals. No-one accurately knows the number of companies out there dealing in dolphin spotting tours, but it's a lot. Monkey Mia in WA is probably the most famous (completely wild, no feeding), but Temptation Sailing in SA is also excellent (0412 811 838), as is Polperro Dolphin Swims in Victoria ([03] 5988 8437), Dolphin Kayaking in Byron Bay ([02] 6685 8044) and about a zillion others. AT can't encourage enough the interaction of young children and dolphins; both parties always seem to benefit so greatly from the experience.
Great Barrier Reef
Spanning more than 2000km of the Queensland coast, the stepping off points to explore the reef with your little ones have never been more readily accessible. Watch for great discount rates for kids across all outfits, like Great Barrier Reef Dive & Snorkel Adventures ([07] 4051 5777). Larger scale companies like this will also take care of everything for your family: accommodation, diving gear, meals, the lot. Mike Ball's Dive Expeditions ([07] 4053 0500 ) are world famous for quality and service, so it's hard to go wrong there. And while you're in the area, a Wetland Wildlife Feeding tour at Hartley's Crocodile Adventures (between Port Douglas and Palm Cove, [07] 4055 3576) will see the kids feeding turtles, fish and waterbirds in the depths of a wetland ecosystem. Croc shows, snake shows, koala feeding . . . yes, 7-year-old Oliver from Hurlstone Park, you'll even get to feed a cassowary!
Sharks and other undersea creatures
Some kids – like 14-year-old Madison from Meadow Springs in WA – are clearly not happy with looking at sea creatures unless there's a scare-factor of some kind. Shark diving might be a bit out of the comfort zone of most youngsters, but even coming face-to-face with one through reinforced aquarium glass can be enough. UnderWater World ([07] 5444 8595) and Sea World ([07] 5588 2205) are Queensland's two heavy hitters in this department, and you can even hop into the tank with an expert if you're super brave. If you do, send us a note to tell us how it went.
Catch a crab
If your child's greatest desire is to chase and snare a snappy crab – like 9-year-old Liam from Summer Hill – then nothing could be simpler: just head to a beach or rock pool, hunker down and take your chances! However, if want something more organised, you'll be thrilled to learn that there are proper tours out there for the snap-happy. A good one is the Catch a Crab cruise boat, which runs along the Tweed River on the Gold Coast. You can also feed pelicans, catch yabbies and do a spot of more regular fishing. And, naturally, you'll be cooking and eating your delicious catch onboard. All bait and fishing gear is provided.
where: West Tweed Heads, Gold Coast
phone: (07) 5599 9972
website: www.catchacrab.com.au
WANT FIVE MORE?
Don't forget these other great ideas for kids:
1. Dolphin Explorer Cruises, Jervis Bay NSW (02) 4441 5455
2. Dolphin Discovery Centre, Bunbury, WA (08) 9791 3088
3. Undersea Explorer, Port Douglas, Qld (07) 4099 5911
4. Baird Bay Ocean Eco Experience, SA (08) 8626 5017,
5. Melbourne Aquarium, Vic (03) 9620 0999
EVEN MORE ESSENTIAL WEB-EXCLUSIVE LINKS
1. Saving the turtles, QLD (07) 4069 7266
2. Ever wanted to tag a shark? QLD (07) 4099 5911
www.undersea.com.au
3. AQWA, WA (08) 9447 7500
www.aqwa.com.au
4. Sydney Aquarium, NSW (02) 8251 7800
www.sydneyaquarium.com.au
5. Get a Seal of approval, QLD (07) 5444 8595
www.seaworld.com
www.underwaterworld.com.au
6. Whales at play, QLD
www.whalesherveybay.com.au
7. Turtles, dolphins and whales, QLD
8. Ocean learning for the kids, QLD
www.seaworld.com.au
9. Aquascene, NT (08) 8981 7837
www.aquascene.com.au
10. National Zoo and Aquarium, ACT, (02) 62 878 400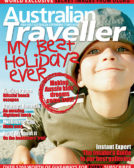 Enjoy this article?
You can find it in Issue 11 along with
loads of other great stories and tips.