The new Tamron 10-24mm wide angle lens is going to be good. We've already ordered two of them for here at the AT Office Tamron have just announced a new wide angle lens. The 10-24 wide angle that is suitable for Nikon and Canon DSLR cameras.
We haven't received the ones we have ordered yet, but as soon as we get our hands on them we will post a review for you.
The 10-24 wide angle lens is a great lens for wide angle photography. We previously used the 11-18mm Tamron lens and found it to be fantastic. If you read around on the internet, there are some criticisms of this lens due to it's performance at low apertures. But face it. This is a lens that deserves to be put on a tripod and shot at high f/stops. It's a landscape lens for a country full of great landscapes.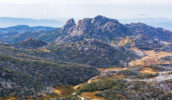 Canon sell a 10-22mm lens that performs slightly better, but is about twice as expensive. (RRP $1,399)
Details: http://www.tamron.com.au/
Price: RRP $899