National treasure and culinary legend Margaret Fulton is considered the matriarch of Australian cooking. She has sold 1.5 million copies of the original The Margaret Fulton Cookbook, has been nominated by the National Trust as an Australian Living National Treasure, and she was named by a Sydney Morning Herald panel as one of the 25 Australians who has most changed the nation.
Margaret will host a nostalgic 1930s-style garden tea party at FEASTival – a five-day celebration of Kangaroo Island's gastronomic delights, held in April 2014.
Megan Arkinstall sat down to chat to Margaret about…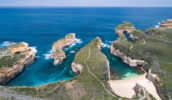 Cooking
After we moved out from Scotland, I grew up in Glen Innes [NSW] and I was the youngest of six. My brothers and sisters were knocked out by the lovely sponge cakes and the rolls and the pavlovas. They'd never seen anything like it in Scotland.
When I left finishing school I won something to get into university but I didn't want to do that. I wanted to cook. When I was 18, no girls wanted to cook. But deep down, I was terribly fascinated by the lovely food that I had experienced and I went on to study hotel and restaurant cooking. I'm terribly glad I did.
Kangaroo Island
I went to Kangaroo Island many years ago and I was fascinated. The feeling of the people here is something I think all Australians should treat themselves to. Anything from Kangaroo Island is just absolute perfection. The honey they make and the dukka they make… the bees are fortunately far enough away so other bees from different places don't come in and spoil this lovely gooey honey.
And when I think of that lovely whiting that they have there – there's no fish in the world which is better than it.
I've never seen a community that is making such a good, happy, truly happy life.
FEASTival
I think this festival will give you a feeling that you're getting to know Australia all over again. Like how we used to be and how friendly people are, and how good it is to see friends that work hard and produce lovely things and share them with pleasure. And it's a tradition that is still strong on Kangaroo Island.
The perfect tea menu
A good housewife would always have Dundee cake in the pantry because it keeps well and it's not as heavy and rich as fruit cake. If someone drops in unexpectedly, it's lovely to have the Dundee cake – it's always there.
Also, I used to make scones very quickly, because it doesn't take long to make them. I think people like scones with nice cream and jam; some of those old fashioned things. I also always do shortbread because I have that anyway, being a Scot.
This sounds very English, but I do think that the Queen has got something right in that they're always having cucumber sandwiches. You know with all of that sweetness, it's nice to have something a little bit fresh tasting.
Tea cups
What is nice today is tea served in all different lovely teacups. People are beginning to do that; to save a couple of cups from their grandmother and a couple of cups from an aunt.
It's quite fascinating to see what people choose and what makes people tick in a way. The things that I buy are very different to the things my daughter buys.
I think it's a lovely way to entertain but unfortunately in our busy world today, it's not a thing we do. It's nice to be able to have a little chat and relax.
Coffee
I'm a tea person. I have one coffee a week. I have some friends – we're all nearing 90 – and we have coffee every Saturday morning and we've done so for five years.
I like to have various teas, I like to have Darjeeling because I visited Darjeeling – it is perhaps one of the best teas. But I like English breakfast during the day. I'm not mad on some of the teas that are coming out now.
They're doing an awful lot with teas and I find that you get spoilt for choice. If you're on a good thing, stick to it.
Tea etiquette
Funnily enough, if I think of the most interesting person I've had tea with it's an Aunt in Scotland who was so rigorous about the whole thing of tea ceremonies. I could see that Aunt was very busy with serving the tea with all the demands that people wanted: strong, weak or whatever tea.
So I said "Aunt Jean, I'll pour my own tea". I looked at her face and asked, "is that alright?" and she said, "just this once". Because you don't ever pour your own tea at a household where a tea ceremony is being held. In Australia, a lot of the formalities and traditions have passed by, but you know, we still like to think we have good manners.
High tea
I used to enjoy high tea. When you have high tea you often don't have dinner until late at night. I think the days of high tea, as they used to be, are passing. But on the other hand, I think and I'm hoping, when I have this tea party [at Kangaroo Island's FEASTival] at this lovely old house, it's very nice, like playing a part and having some fun in playing the part. It's lovely to sometimes perform a little ritual that you know your ancestors have done.
Details about FEASTival
The Kangaroo Island FEASTival (24–28 April 2014) will host over 15 dining events with special guests including Margaret Fulton, Matt Moran and the best of Kangaroo Island's local chefs. Margaret Fulton will host a Garden Tea Party on Sunday 27 April; tickets are $75 per person.