Whales, sharks dolphins, penguins, camels, horse – whatever your wildlife fave, we've tracked down the most amazing places and best experiences to come face to face with the best of Australia's wildlife holidays for animal lovers
1. Swim with the whale sharks, Ningaloo Reef, WA
Few people who encounter Ningaloo Reef's whale sharks (around 12 metres long) deny it is a life-changing event. The best time to swim with these massive softies on the north-west tip of Western Australia (in one of the world's healthiest reef systems, World Heritage List in 2011), is between April and June. Operators such as Kings Ningaloo Reef Tours, charge around $400 per person. See: A close encounter with Ningaloo's Whale Sharks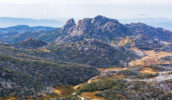 2. Sunset camel ride along Broome's Cable Beach
It takes a while to settle into the slow pace but there are few better experiences that help you appreciate the beauty of the Kimberley than a camel ride along Cable Beach. You'll pay a bit more for the sunset trip, a travel cliché that's earned its grandiose reputation, but stump up if you can – it's worth it ($70 adult, $55 for children for 1 hour with Ships of the Desert). See: Broome sunset camel ride
3. Cage diving with sharks, Port Lincoln, South Australia
Steel cage beats customer's nerves every time. Confronting? Yes. Controversial? Sometimes. Exciting? Always. You need no diving experience to jump in with operators such as Rodney Fox Shark Expeditions at South Australia's Port Lincoln and gear's provided. Prices start from $995 per person. See: The Great White truth about cage diving
4. Dwarf minke whale encounter, Cairns
"Even the steeliest of hearts would be floored with the joy and gratitude of this privilege, swimming mere metres from these creatures," says our editor Georgia Rickard. She went on the three-night 'Cod Hole' expedition (which departs Cairns every Monday, dropping you off at Lizard Island, from $1575 per person). A seven-night trip returns you back to Cairns via Osprey Reef (from $3215 per person). See: Diving in deep with the Barrier Reef's minkes
5. Horse riding in strange and wondrous places, Kimbereley and Magnetic Island
Play out the quintessential outback stereotype as you canter your way across the red earth of Kimberley's Home Valley Station or, at the complete other end of the spectrum, go swimming with a horse as you ride through the gorgeous shallows of Townsville's Magnetic Island at Horseshoe Bay Ranch (the horses wade chest deep). See: Outback at a Canter – Kimberley on horseback and Ride a horse into the ocean at Magnetic Island
6. Swim at the whim of dolphins
It's almost impossible to guarantee a dolphin encounter anywhere in the world – dolphins swim with you and not the other way around. However, in places such as Western Australia's Monkey Mia, the odds of connecting with these soulful creatures are greatly increased. Here are five places where the dolphins (in theory) will come to you.
7. Peruse Phillip Island's penguin parade
Phillip Island is one of the premiere places on the globe to secure a personal penguin experience – and not from far, far away either. Witness the compact creatures groom themselves and interact with each other as they waddle up the beach back to their burrow after a hard day in the ocean (the Ultimate Tour, $84.20 is recommended). See: Out and About: Phillip Island
8. Homing in on the elusive platypus
Few creatures are as shy as our very own intriguing platypus so seeing one in the wild is an absolute privilege. The mysterious mammal is best spotted in its burrow during the daylight or when it's on the hunt after dark. Mackay's Broken River or Adelaide's Warrawong Earth Sanctuary are two recommended spots for an encounter.
9. The marching red crabs of Christmas Island
Certainly not the cuddliest creatures on the list, but wildlife god Sir David Attenborough once described the mass movement of the red crabs of Christmas Island as "the world's greatest migration". And they don't just frolic on the beach either, marching their way through the forest and the rest of the island too. November's the best time to witness this powerful and colourful mating ritual. See: Exploring Christmas Island
10. Where did dingo?
They've not always had the best reputation, but if you want to see Australia's wild dog in its natural habitat then the concentration on Fraser Island is a must. Remember, though, these are wild animals, only to be appreciated from afar – there is plenty of information once you're there on how to interact with them safely. See: Fraser Island: Australia's natural theme park
MORE
Five more horseback holidays to hop on
Witness a turtle's first flippery steps