AT's foodie-cum-fantasist Peter Russell-Clarke follows the rise, the fall, the fame and fortune of a fiery maiden and her strongman companion.
Her given name at birth was Mavis but, years later when she met and married Eric, who changed his name to Peter, she became Wendy, with the nickname of "Puck".
For a few years they were a happy couple, until Eric/Peter bought a yacht and sailed off to become a modern-day pirate. Mavis-cum-Wendy left Ballarat and settled in a small country town in northern NSW, where she became quite the accomplished dressmaker. Some little time later, she moved further north again and became a governess to a prosperous and pompous grazing family.
Wendy was an attractive woman, still young, high spirited, intelligent and adventurous, but not as adventurous as her pastoral employer wished her to be. So she hightailed it – and it was an attractive tail too – into the
Glasshouse Mountains of Queensland. The same mountains where Bernard O'Reilly became a national hero. The official search for the wreck of The Southern Cloud, which had crashed on its way from Melbourne to Sydney, had been abandoned. Bernard, disregarding all the official evidence, searched where he was assured the plane would definitely not be – and found not only the aircraft's charred skeleton, but survivors whose wounds had been kept clean by maggots, thereby saving them from gangrene poisoning. The world was enthralled by the story of O'Reilly, as Wendy was enthralled by the mountains.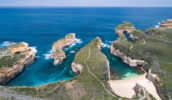 Miss Wendy, for that is how she was now known, applied for and was granted a cooking job in a pub in a small country town nestled in the rainforest. For protection from the lascivious louts of the region, she took up with Clarence, a local timber cutter who was known as "Skinny" because of his massive shoulders and overall Superman physique.
It was possibly never a love match but they suited each other well. Wendy could be her outrageous self, knowing that, because of Skinny's size, no-one would object. Skinny, although not a solemn man, was less outgoing than Wendy – unless he considered himself slighted, which could happen on the most unpredictable occasions. For instance, one early evening Skinny thought the local police sergeant and the town's mayor were discussing the fact that it was Skinny who was stealing pigs from the back of the pub's small farm. So Skinny belted them both.
The mayor did a brief stint in hospital with a broken jaw, the policeman a brief stint in the courthouse where he explained to the good magistrate the happenings of the evening, and Skinny a brief stint in the local lock-up from where he was released after he promised to mend his ways.
Wendy, in the meantime, was cooking for all comers to the pub dining room. She supplemented her wages by dressmaking and was none too pleased when a pastoralist's wife complained, not of the cut of lamb and mint sauce, but the cut of the bodice of the dress Wendy had recently made for her.
"You don't need a bodice, you stuck-up sow," Wendy pointed out. "You need a hammock in which to hang those ungainly tits of yours." And with that she poured the mint sauce over the startled lady's coiffure.
Naturally, Wendy ceased her employment at the establishment, leaving town that very afternoon, closely followed by Skinny, who had whacked the woman's husband for good measure.
They fled southwest. They both got a job on a vineyard near Bunbury. Skinny had shaved his head and grown a beard – changing his look but not his temperament. Wendy was still Wendy and cooked at the vineyard's cellar door.
Naturally, Wendy ceased her employment at the establishment, leaving town that very afternoon, closely followed by Skinny, who had whacked the woman's husband for good measure.
Skinny, who'd been a beer drinker, managed quite successfully to transmigrate to Cabernet, while Wendy preferred the more ladylike Riesling. Her food became famous. Instead of stuffing zucchini flowers or the like, she stuffed a myriad of flavours into vine leaf wraps. "The Greeks have been doing it since Socrates," Wendy gaily sang. "But mine are better because I don't include hemlock," she giggled at her little historical joke. "Mind you, there are a few customers who come in here I wouldn't mind giving a dose of hemlock," she added, mixing muscatels to a Chinese plum sauce to be served with a seared slice of tuna which had been caught off the coast of Albany. The slice of tuna was two centimetres thick. "Anything thinner is impossible. An appropriate result must look like an ice cream raspberry slice," she explained. "A colour strip of rosy, raw tuna, seemingly sandwiched between a top and bottom of cooked white tuna. Of course you must have a marvellous piece of tuna to start with, but then I wouldn't use anything less. When it's cooked just right, I serve it sprinkled with a little garlic salt, and a squiggle of plum and grape sauce besides. A glass of chilled Riesling is all that needs to accompany it".
"A rounded Cabernet would be better," grinned Skinny. "Tuna eats happily with either," smiled Wendy sweetly, having finished plating the food and sending it to the dining room with the waiter, who was Skinny dressed in a monkey suit.
Apart from tuna, Albany is famous for its prime lamb, and so Wendy was preparing a crown roast for the main course. And regal it looked too. Tied to form a crown, its centre filled with crisp, roasted Sobago potato quarters and seeded grapes, perfected by a mixture of honey and mustard. When the time came for it to be presented to the dining room, Wendy waved Skinny away and proudly marched in with her royal offering.
She gasped. There, sitting at the table, was the woman from the east whose tits she suggested should be hammocked. Without a falter, she lifted the crown roast from its platter, dropped it onto the woman's head and sweetly said: "I'm sorry, there's no mint sauce." Then she fled, followed by Skinny who growled "I suppose Tassie is all that's left."
You'd think that'd be the end of this story but, several years later, I read a small piece in a local Tassie newspaper.
"A one-time Australian hotel cook, Wendy Woodsman, has won the prestigious Paris Millinery Award with her exhibition of exquisite hats inspired by culinary offerings. The award-winning design was titled 'Crown Roast'. Miss Wendy has also been introduced to the Queen, who has shown interest in her art."
So too, I presume, did her corgies.
*HAVE YOUR SAY: Got a question or a comment for Peter? Email PRC@australiantraveller.com.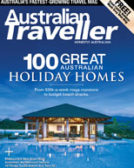 Enjoy this article?
You can find it in Issue 29 along with
loads of other great stories and tips.