For portable tunes on the go, the Bassburger produces a meaty sound that belies its tiny size.
There are loads of miniature gizmos out there at the moment for plugging into your iPod (or what have you) and generating sound on the go. Many of them are substandard. The Bassburger is definitely NOT one of those.
The Bassburger is a big sound packaged in a palm sized USB rechargeable boom box. It can be charged in 2.5hrs and is available in black, white, yellow and red.
Not only do they look terrific, but they create a surprisingly good sound, and come with an in-built rechargeable lithium battery that can keep the tunes pumping for eight hours (and which can be recharged up to 500 times via USB).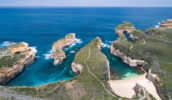 RRP $49.99, check out www.lomis.com.au for more info.