At Australian Traveller we are about to splurge our hard-earned dollars on a new DSLR for the cabinet. Nigel Herbert explains why we are going to buy the camera that no one seems to like. The Canon 6D.
Okay, it's not that people actually "hate" the camera. It's just that since this camera was launched there has been very little buzz, and none of the camera experts seem very excited about it.
But we are excited and they are wrong. Because for myriad reasons, the Canon 6D is quite possibly the best DSLR for travel that we have seen yet.  And here are 10 key reasons why we think it is one of the best travel cameras that money can buy.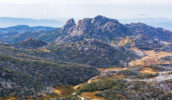 1. Size:
When travelling, size and weight are everything. This is Canon's lightest full-frame camera, and at 770gms a quick look around seems to confirm that it is the lightest full-frame camera from any manufacturer.
2. GPS:
For a travel camera, GPS is one of the killer apps. Having the GPS coordinates of a shot tied to the exif data of the image is a big deal. We are often back at the office and looking at pictures of, say, Kakadu and thinking "where EXACTLY did I take that shot? I just can't remember". It's one of those things that will become invaluable with time. And as web services improve, you can be sure that we will be able to do some amazing things with geo-tagged images using technology that we haven't even heard of yet.
3. Full Frame:
This is important. A full-frame camera has a large sensor. And when it comes to the quality of photograph you can make, everything starts with the size of the sensor. A big full-frame sensor collects a lot of light, and each of the 'dots' on the sensor are large, well spaced, and not fighting with the 'dot' next door for light. After all, it's not about the number of pixels in a camera. It's all about the quality of those pixels. And full-frame cameras like this will create large, beautiful images with huge amounts of background data due to the size of the dots on the sensor. Which you can properly punish in Photoshop.
4. Wi-fi:
This is where the Canon 6D gets crazy good. It has  a built-in wi-fi transmitter. Big deal, I hear you say. But wait. This is a big deal. By having a wi-fi enabled camera you can CONTROL the camera with your phone. With a little Joby Gorilla pod I can place the camera almost anywhere and shoot whatever I want.  A video. A timelapse. Perhaps some bracketed HDR. As long as we are within 30 metres of the camera we can control the focus, exposure etc of each shot. Not only that, but the camera will beam back (high) web-quality jpegs of any images I choose. I can then post those to social media or send them straight across to our editorial department so we can get some feedback on the shoot. I can also review, rate and delete the images on the card from the phone. So anytime you have some downtime and your camera is nearby you can work on those images. From your phone. We can't even describe how excited we are to pair this camera with the iPad mini as the ultimate travelling DSLR set-up.
5. Apps:
The Canon EOS remote app. Enough said. Though expect that with time there will be third party apps that will work with the camera as well.
6. -3 Stops Focus:
Doesn't sound like a big deal. It just allows you to focus more accurately in low light than any other camera in the Canon range. And guess what? As travellers we aren't in a studio environment. We are in the moment right now, and the best shot we will get is what we have right in front of us now. And guess what? We are constantly photographing poorly lit bars, restaurants and tourist areas. Often at night. So a camera that focusses well in bad conditions and has enough high ISO performance to photograph a black cat in a cave? Sign us up!
7. SD Card:
Pro shooters aren't big fans of SD cards. Nor are camera snobs. But you know what? SD cards are great. We have been using CF and SD cards here in the Australian Traveller offices for years. And we haven't had a single card failure yet. But the reason for our excitement is that we can use the card reader that is built into our laptops! For about a decade, everyone who shot using CF cards had to carry a card reader and cable in order to copy their images across. Not having to pack a card reader is just one extra bonus as far as we are concerned. Plus, you can buy SD cards everywhere in the world. CF cards? Far less so.
8. ISO:
Because of its gorgeous full-frame sensor, the 6D shoots astounding quality images at higher ISO levels. We use a 5dMk2 here in the office, and ISO 3,200 is about as far as you want to push an image. But image quality of the 6D at ISO 12,800 is just useable. And the ISO range stretches out to a staggering 102,000! This will allow you to photograph black cats. In a cave. At night. With no flash. The higher ISO will also allow you to use faster shutter speeds, and hence less expensive lenses.
9. Video:
Yes, everyone shoots video, but the video controls are far better than the video controls on the 5DMk2. With up to 60fps and the various frame sizes there is a lot of potential for the 6D to be a remarkable video camera. Not as good as its more expensive brothers. But capable of producing better quality video than we can creatively think of. Plus the high ISO in video mode should allow us to make video in places we would never have dreamed of in the past.
10. Silent Shutter:
Nothing draws attention to yourself with a DSLR like the "rat-a-tat-tat" of loud shutter on a camera. Especially somewhere quiet. And when travelling, being stealthy is often the key to getting a great shot without disturbing people. Well, the good news is that the 6D has a "silent shutter" feature that allows you to shoot without making a noise. Perfect for street shooting. Which travel photography tends to be.
There are some drawbacks here. And we know about them. Waterproofing is one example. We understand that this camera will not be as waterproofed as canon's 1 series cameras. That's okay. We probably won't be doing anything too radical with the camera.
We are also completely unenamored with Canon's stupid "creative zones". Which this camera appears to have unfortunately inherited from the less professional Canon cameras. Creative zones allow you to add Instagram-type filters to your images. Which just seems dumb. People with DSLR cameras connect them to their computer and use better software to do their image manipulation. These zones just give you an opportunity to fiddle some more with your camera. After all, what designer would want to photo edit on that tiny (and colour inaccurate) screen on the back of a camera? You bought a DSLR to punish those pixels in photoshop!
At the end of the day, the pros far outweigh the cons and we are getting one for the office. Just the body. We are going to mate it with Tamron's fabulous 24-70 lens.