The Many Miles of MYPOWER
The Many Miles of MyPOWER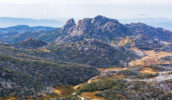 How far would you be willing to go to create a better future for Australia? For these four ordinary young men cycling around Australia, 12 months, 16,000km and one huge country are only a small part of the journey.
Welcome to our sunset. The sky over the estuary to the Great Oyster Bay on Tasmania's east coast is a brilliant orange. The pink granite boulders of Freycinet National Park radiate this energy back into the heavens, which turn pink, then purple, before a soft yellow halo hovers over the western highlands. It's by all accounts a typical sunset. But – like all sunsets – it's unlike any other.
How we four university students came to enjoy such a sunset is a long story. The idea to circumnavigate Australia by bicycle to encourage sustainability – our ability to give back to what we take from our planet – began over a beer in a Sydney pub. We'd planned to take our own Kyoto Protocol petition around Australia, but this soon evolved into an action plan for all Australians to undertake simple actions to live more efficiently, save money and help prepare Australia for our generation and those following. Because the time for procrastinating about the impact of our ecological footprints was yesterday.
So, to take this challenge around Australian schools and communities by bicycle and capture the beauty of Australian culture and geography by film is our privilege – but our sunsets didn't come for free. Fourteen months of planning, years of personal savings, two sold cars and a plethora of bureaucratic administration all went into what is now simply known as MyPOWER.
While chasing Australia's endless coastline for 12 months, we're seeking support from every Australian, to choose and perform any one action each month from our website, www.mypower.org.au. We can almost guarantee that our monthly action of 1333km by bicycle is of equal or greater difficulty. From this website we welcome you to join our tour and visit Australia through the lens of our camera. We must capture Australia today, to ensure that it's better tomorrow! It's not about environmentalism, it's not green washing; this is mainstream. It's about you, me and everyone else, living here like we mean to stay. – The MyPOWER team.
*AT will be following the MyPOWER team throughout the year, bringing you updates every time they slip into a ditch or take a wrong turning.
Their daily blog is operating now, so check in on Tom, Mereki, Anthony and Matt – and don't forget to take up one or more of their Eco-Challenges.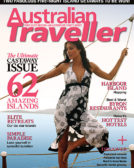 Enjoy this article?
You can find it in Issue 19 along with
loads of other great stories and tips.