Reader stories of travel in Australia
The Naked Revolution
By Anthony Bray

Once a barely-catered for section of the Australian holidaying community, nudists are swelling in numbers and finding more and more of their needs met.

Over the past few years, the upsurge in the amount of people touring and sightseeing this great country of ours has been dramatic. Most fall into the Gray Nomad category: those who have opted for early retirement on a good superannuation payout. While these do make up the bulk of local tourists, there's a good cross section of others.
There are those who have decided on an itinerant lifestyle, still young enough to take whatever work comes along to pay their bills, while seeing what Australia has to offer. Then, of course, there are the pensioners on extended holidays. My wife and I fall into this category. Usually we try to get on the road for the winter months. Three months slowly tripping to Darwin or Cooktown makes it much easier to bare the cold . . . with the emphasis on "bare."
The Royal Automobile Club of Queensland reports there are more than 600,000 Australians taking caravan holidays each year. The Campervan and Motorhome Club of Australia boasts in excess of 40,000 members. No wonder campsites and B&Bs are popping up all over the country to cash in on this lucrative market. Among these statistics is one group of which the average traveller is largely unaware: the nudist/naturist tourist.
Those of us who belong in this category are finding that we are, more and more, being catered for. Previously, we were forced to stay hidden in remote pockets of bushland, or to traverse scrub tracks leading to isolated, unpopulated beaches. Today's naturists have a string of B&Bs, resorts, camping areas, legal beaches and, perhaps less often, district social clubs to cater to their requirements as they travel this wonderful country.
Once upon a time, followers of this great lifestyle were shunned, treated with contempt by mainstream entrepreneurs. Bruce Small, son of the main founder of the Gold Coast tourist behemoth, once commented: "Nudists should be kept away out in the bush, behind a big tin fence." In today's world, this no longer applies. All up the east coast, particularly Queensland, naturists have opened up their homes as B&Bs for the like-minded traveller. Others have small acreage blocks ideally suited for self-contained caravan or mobile home tourists. These are in secluded – but not necessarily remote – areas, ranging from three-star plus swimming pool, powered sites and all amenities, right down to simply a safe campsite with basic requirements (ie, a toilet and a hot shower).
The low costs of these places are a drawcard. The prices of a few "high profile" resorts, such as River Island in NSW and River Valley in Victoria, reflect the demand for higher-class amenities, but the average resort with powered sites and swimming pools are usually around the $25 per night per couple mark. The basic camping ground with no power and no pool ranges from $15 per night per couple to a low $5 per night per couple. These sorts of prices make seeing the country in winter a lot more affordable, especially on a pension. The added bonus is, we're doing it while still enjoying the pleasures of a nudist lifestyle.
Another future possibility for the nudist tourist is a vehicle window recognition sticker; a "Wandering Bares" logo is being promoted to take the guesswork out of recognising fellow naturists when on the road. Even further down the track, a column in a national nudist magazine is envisaged. This would carry news relevant to the travelling naturist – items such as secluded campsites, safe beaches, new resorts and interesting things to see on their travels.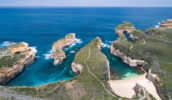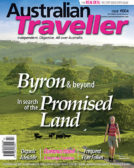 Enjoy this article?
You can find it in Issue 4 along with
loads of other great stories and tips.