The great thing about train travel is that you can sit back, relax and meditate on an ever-changing view. Carolyne Jasinski crosses the country both ways on two epic rail journeys that venture into Australia's heartland.
As the Indian Pacific pulls slowly out of Sydney, I watch suburbia slip away. I'm embarking on an epic journey, crossing an entire continent from east to west and south to north, following the paths of Australia's early explorers – those brave souls who dared to venture into the unknown and risk their lives to discover what lay "beyond the black stump".
But dismiss any visions of an intrepid writer spending months battling the elements and  trudging thousands of kilometres into the harsh Outback. My transcontinental trek is far more comfortable and far less dangerous. My journey is unfolding on two of the world's great train journeys – the Indian Pacific from Sydney to Perth and The Ghan from Adelaide to Darwin.
If the point was just to get to the other side of the country, flying would be a much faster option. But this is not about reaching the far west coast or the northernmost town, this is all about the journey itself – tapping into the romance of an era long gone, when travel was a social experience and the epitomy of luxury.
As our trusty steel steed carries us through some pretty inhospitable territory, we marvel with champagne in hand at the tenacity of great explorers such as John MacDouall Stuart. We're in awe, as we dine on yet another three-course dinner, of the early pioneers and their ability to cross this great land and not only survive, but settle and prosper.

The Details:
The Indian Pacific crosses Australia twice a week in both directions. One-way from Sydney to Perth costs $3576 per adult in Platinum Service; $2127 per adult in Gold Kangaroo Service; $1506 in a Red Kangaroo Sleeper Cabin and $799 in a day/night seat.
The Ghan travels north-south twice a week (April-October). One way from Adelaide to Darwin costs $2110 per adult in Gold Kangaroo Service; $3188 in Platinum; $1465 in a Red Kangaroo Sleeper Cabin and $774 in a day/night seat.
Notes All prices valid from April 1, 2012. Both trains have a car carriage, so you can take your own vehicle for an extra fee.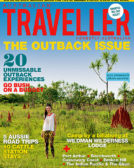 Enjoy this article?
You can find it in Issue 43 along with
loads of other great stories and tips.