For family-friendly animal encounters, Australian zoos provide great holidays with kids
"They won't eat me, I'm Tuff."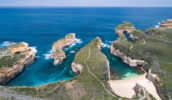 For the Wild Animal Lovers
It seems there are hundreds – probably thousands – of kids out there who want nothing more than to roam around in the bush or on a farm, looking under rocks for things that crawl or leap. But if you're worried about your budding lion-tamer getting on the wrong side of some sharp teeth, there are literally hundreds of places in Australia where the wildlife experience can be had safely. Here's a wander through some of the more interesting ones:
"I want to go to Africa to cuddle some lions. They won't eat me, I'm tuff."
– Luke, aged 12, Daly River Community NT
"Going to a farm to drive a tractor around. I'd mow the grass and collect firewood on the tractor. I'd have a big bonfire. I would catch frogs and keep them and take them home."
– Lachlan, aged 7, Narrabeen North NSW
 "I would like to go to the North Pole and have a pet penguin and play with it and make penguins a cave to live in. I would want to help the animals in the North Pole."
– Jonathan, aged 8, Lewisham NSW

"I would go to the rainforest and look for lizards and reptiles. I would climb trees and jump in puddles. I'd hunt for crocodiles."
– Joshua, aged 7, Narrabeen North NSW

"Crocodylus Park in Darwin is the best. Get to see the crocodiles really close up, even touch a baby one!"
– Nicholas, aged 5, Nakara NT
Werribee Open Range Zoo
The next best thing to going to Africa to cuddle lions, Australia's safari parks can fill that void in your kids' imagination. Just one great example, Werribee Open Range Zoo is set on 500 acres of wild expanse only 30min from Melbourne and features safaris, wild grassy plains, trickling rivers, rhinos, giraffes, hippos, cheetahs, lions, monkeys – your basic Out of Africa menagerie. The zoo's Slumber Safari program – with an African BBQ – means you can also spend the night sleeping with the animals, and there's even an African drumming lesson for the musically inclined. Although once your kids have sat in on a few "Rip Roaring Lion Feeds," they'll think twice about wanting to cuddle one quite so much.
where: 35km southwest of Melbourne, Vic
phone: (03) 9731 9600
website: www.zoo.org.au
Lillydale Farm Homestay
Just as important as seeing all the weird and wonderful animals in a zoo or on a safari is letting your kids experience life on a working farm. There are countless wonderful farmstay options across the country, with Lillydale near Mt Barney in Qld merely a typical example. Help feed the animals, milk cows, ride horses, crack a whip, throw a boomerang, herd sheep, gather chook eggs – each farm is subtly unique, but all give a great insight into life cycles and the value of hard work (and early mornings). And the fresh home cooking! Your kids will never look at a supermarket tomato the same way again.
where: Upper Logan Road, Mt Barney Via Rathdowney, Qld
phone: (07) 5544 3131
website: www.lillydale.com.au
Penguins on Parade
Penguins have been spotted in numerous places around Australian – even in Sydney Harbour! – so you won't have to go far to give your kids the North Pole experience, but without the paralysing cold. The Phillip Island Penguin Parade in Victoria is a great start – as Australia's largest penguin colony, it's been thrilling young and old alike for years. Your local zoo will also have their fair share of the comical creatures, then there's always Kangaroo Island in SA, Penguin Island just off the coast south of Perth, or the aptly named Penguin, a small coastal town in northern Tasmania with twilight viewing sessions of fairy penguins scrambling ashore from Bass Strait.
where: Phillip Island Nature Park
phone: (03) 59512800
website: www.penguins.org.au
Crocodylus Park
Why is it that kids are so fascinated by crocodiles? Is it because they're the closest living thing resembling dinosaurs? Whatever the reason, if your kids want crocs, then Crocodylus Park, only five minutes from Darwin airport, has more than 1000, ranging in size from tiny babies (which, yes, the kids are allowed to handle) to half-ton adults measuring almost 5m (which they're definitely not allowed to handle). They've also got their fair share of big cats, primates, birds and other reptiles including hawksbill turtles to ensure the crocs don't steal all the limelight.
where: Knuckey Lagoon overlooking Holmes Jungle Nature Reserve, Darwin
phone: (08) 8922 4500
website: www.crocodyluspark.com.au
WANT FIVE MORE?
Don't forget these other great ideas for kids:
1. Safaris at Monarto Zoological Park, SA (08) 8534 4100, www.monartozp.com.au
2. Moonlit Sanctuary, Pearcedale Vic (03) 5978 7935, www.pearcedale.com
3. Breakfast with the birds at Port Douglas, Qld (07) 4099 3235, www.rainforesthabitat.com.au
4. Zoo Venture Tour at the national zoo and aquarium, ACT (02) 62 878 400, www.zooquarium.com.au
5. Active Safaris, WA (08) 9450 7776, www.activesafaris.com.au
EVEN MORE ESSENTIAL WEB-EXCLUSIVE LINKS
1. Darling Zoo, QLD (07) 4696 4107
www.darlingdownszoo.com.au
2. Healesville Sanctuary, VIC (03) 5957 2800
www.zoo.org.au
3. Caversham Wildlife Park, WA (08) 9248 1984
www.cavershamwildlife.com.au
4. Perth Zoo, WA (08) 9474 3551
www.perthzoo.wa.gov.au
5. Territory Wildlife Park, NT (08) 8988 7200
www.territorywildlifepark.com.au
6. Family bush walks in Kakadu, NT (08) 8985 2134
www.bushwalkingholidays.com.au
7. Cania Gorge Bush Adventures, QLD
www.cgba.com.au
8. Breakfast with the Birds, QLD (07) 4099 3235
www.rainforesthabitat.com.au
9. Queensland's menagerie by night, QLD (07) 4055 3669
www.cairnsnightzoo.com 
10. Twilight Safari, QLD (07) 4093 2514
www.mareebawetlands.com
11. Famer for a day, QLD (07) 3872 1100
www.auswoolshed.com.au
12. Outback on the coast, QLD (07) 5573 8270
www.paradisecountry.com.au
13. Crocodylus Park, NT (08) 8922 4500
www.wmi.com.au
14. Alice Springs Reptile Centre, NT (08) 8953 0170
www.reptilecentre.com.au
15. Western Plains Zoos, NSW (02) 9969 2777
www.zoo.nsw.gov.au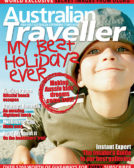 Enjoy this article?
You can find it in Issue 11 along with
loads of other great stories and tips.