A five-minute Arrival Gate interview with actor Tony Sheldon
Arrival Gate Five Minute Q&A


WHO // Tony Sheldon
WHAT // Award-winning actor, singer, dancer, writer, director, currently starring as Bernadette in Priscilla, Queen of the Desert – the Musical at the Lyric Theatre, Star City, Sydney.
THE AUSTRALIAN EXPERIENCE EVERY AUSTRALIAN MUST HAVE? The best part of any Australian childhood is a holiday at a beach resort in Queensland, whether it be a caravan park in Coolangatta, a luxury hotel in Surfer's Paradise, the back of a Kombi on the Sunshine Coast or a budget-breaking blast to the Whitsundays.
MOST UNDERRATED PLACE? Balmain in Sydney. Because it's on the peninsula there's water everywhere you turn. I often take myself on long walks around the backstreets and I'm still finding the most wonderful 19th Century cottages in narrow cobblestoned laneways.
MOST EMBARRASSING TRAVEL MOMENT? Returning from a business trip overseas with an acclaimed Aussie TV actress as my companion. For half the journey this glorious creature sat by my side, radiating Hollywood-style glamour and joie de vivre until we hit severe turbulence, at which point her facade crumbled and she became a wild-eyed portrait of abject terror. The captain ambled down the aisle to reassure the passengers there was no need for alarm, but the mere sight of this handsome man in uniform sent her into a frenzy. Leaping from her seat and grabbing his lapels, she pulled the man to within inches of her flawless face and wailed in a voice that would shatter glass, "WHY AREN'T YOU FLYING THE PLANE?!"
FAVOURITE SECRET AUSTRALIAN HIDEAWAY?
North Wollongong. I seriously considered moving there but, as I don't drive, it's a little difficult to commute to Sydney for eight shows a week. And strangely enough there's not a lot of work in North Wollongong for musical theatre performers.
PLACE YOU'RE NOT HURRYING BACK TO?
No reflection on the place itself, but when I was fifteen the late great jazz singer Ricky May invited my mother (the equally legendary Toni Lamond) and myself to join a midnight cruise to Stradbroke Island. We were so excited that we went out and splurged on very expensive party clothes, and all the black-tie-and bejewelled guests had a wonderful time making music and quaffing champagne until the early hours. Unfortunately, Ricky's idea of a witty party game was to throw all the assembled guests overboard at dawn, so the return trip home was a morose affair of shrunken tuxedos, squelching shoes and seaweed-festooned coiffs. My lavish new wardrobe was a write-off after only one day.
FUNNIEST MOMENT WORKING ONSTAGE AS A WOMAN?
None so far. I assure you, there is nothing amusing about spending up to thirteen hours a day (on matinee days) in corsets, wigs, bright pink nail polish and high heels. I have to take my role very seriously because Bernadette is a transsexual, not a man in drag, and my job is to make the audience completely forget the man underneath the make-up and empathise with this woman's story. Fortunately, from the feedback I'm getting, I'm succeeding. I've been favourably compared to Lauren Bacall, Eleanor Parker, Greer Garson, Celeste Holm and Cate Blanchett!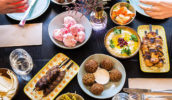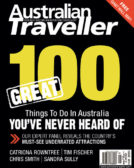 Enjoy this article?
You can find it in Issue 14 along with
loads of other great stories and tips.