Australia's favourite media darling and Australian of the Year 2013 talks hotels, holidays and her travel to-do list
What's your favourite holiday spot in Australia?
I must say, I like going up to Queensland. I just think it's a great place to relax. When my kids were little we used to go to the Gold Coast a lot but now I think it's too built up.
I quite like going right up to the Daintree… and I like the atmosphere of Noosa, I have to say. I like what they've done with the coastal walkway. You can walk all the way along the beach now into the National Park. And you're close to everything but really, in a sense, you're miles away from everybody, and I just love it.
I think Lord Howe Island gives you that as well. I was just knocked out by the beauty of Lord Howe, and again the fact that nobody can really find you. You're just there in this gorgeous spot but if you want to find human beings you can go down and find them. Everybody should go and have a look at Lord Howe, it really is a beautiful place.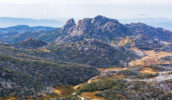 Isn't that interesting? In our '100 Things To Do Before You Die' Issue [April/May 2011], Lord Howe was voted number one. It's an incredible, special place.
It is, and when you think that we go miles out of Australia, we go to other islands and we don't go to Lord Howe.
That's something that always gets me about Australians, I just don't think they see enough of their own country.
It's terrific to go to Fiji and Bali and all those places but you know, right on our own shores we've got these beautiful places like Lord Howe… I don't think there's anywhere else in the world quite like it.
Do you feel that sometimes we need to travel overseas to appreciate what we have here?
Well yes and no. I'm always amazed at the number of Australians who, for instance, have never been to Western Australia, who have never been to the Northern Territory. They all say "yes, one of these days" but they don't go.
They say "but it's such a long way." Yes, it's four or five hours but everything is a long way if you're setting off from Australia so what's the difference?
If you've never been to WA, you don't know what you're missing… what a fantastic place that is. I've been to Broome and through The Kimberley and I've sailed up the coast of WA to Indonesia. I've been down to Albany and to the Pinnacles… if you haven't seen the Pinnacles you're really missing out on something extraordinary.
The only place I've never been to is the Margaret River. That's still on my wish list. I had a client there for 12 years and we've only just parted company because they're moving out of the business.
Every time I went over they'd say "this time Ita, we'll definitely go to the Margaret River." When they told me of their future plans I said "hey, there's just one thing wrong, you never took me to the Margaret River!" So it's still on my to-do list.
What are the five destinations every Australian should see?
I think the Pinnacles in WA, the Whitsundays in Queensland, Tasmania – the whole place because it doesn't take you long to get around Tassie – Sydney from the top of the Harbour Bridge, and Melbourne from the Yarra.
If there's a river or a harbour, I often do a water trip because I get a different perspective.
Melbourne from the Yarra is quite an interesting thing to look at. I've done it a lot. I've also taken a catamaran from the Gold Coast up to Brisbane… all of those things.
And what's your favourite hotel in Australia?
The Sofitel on Collins in Melbourne, without a doubt. I think that's a great hotel. I love staying there. They've got that lovely fragrance that they have in the Sofitel Hotels and you think, 'Oh, this is so gorgeous'.
They're always so welcoming, they can't do enough for you. You really feel as though you're very special when you stay at the Sofitel.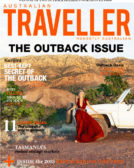 Enjoy this article?
You can find it in Issue 49 along with
loads of other great stories and tips.