Here's where the crew at Australian Traveller would take our mums, our wives (or where we like to be spoiled ourselves) for Mother's Day. And the sky's the limit for these gifts from the heart!
Jonah's Retreat, Whale Beach, Sydney
"Expensive? I'd say Jonah's. Moderately expensive it would be Pelligrini's with BYO. More moderate? Drummoyne Rowers. Cheap? Home-cooked prawn pasta with garlic, chilli, tarragon, white wine and a soupcon of cream." Quentin Long, Australian Traveller (AT) director
Qualia, Hamilton Island, Queensland
"I'd take Mum to qualia – she's outraged that I've been and she hasn't. So it only seems fair!" Georgia Rickard, AT editor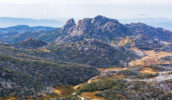 Cradle Mountain Lodge, Tasmania
"Mum would be curled up by the fire at Cradle Mountain Valley Lodge with a glass of Tamar Valley riesling to hand, completely ignoring dad – if possible. Ideally, if the snow goddess allows, there will be a light dusting of snow on the mountain." Steve Madgwick, AT web editor
Lizard Island, Queensland
"Like most mums, my Mum is eternally run off her feet while balancing work, family and various other commitments, which means taking time out to just relax never seems a part of her juggling act. So I'd love to take Mum to a heavenly island escape like Lizard Island, which is so delightfully secluded, not to mention downright beautiful, it's impossible not to unwind here. Couple that with Lizard's divine oceanfront villas, its unrivalled snorkelling, and barefoot luxury service, and I can't think of a more idyllic break." Alissa Jenkins, International Traveller (IT) web editor
Cruise the Kimberley
"I'd love to book Mum (and Dad) on an expedition to the Kimberley. Yes, because it was voted our number one greatest Australian holiday but also because she loves a bit of luxury with adventure thrown in. Both my parents revel in the beauty of our outback!" Tobi Cornwell, AT/IT marketing manager
Lovin' the outback landscape
"My mother is more about the landscape…. to be honest a Winnebago, that she and my old man could drive around the coast and the outback (in winter). It would have to be air conditioned though – mum can't handle the heat." James Munro, AT account manager
What should I buy mum?
Need a Mother's Day gift idea for Mum (or you)? Subscribe to Australian Traveller, the gift that keeps on giving all year round. You could win a luxury holiday for two to boot!