Chris Smith stumbles into Russell Crowe's public walk-in wardrobe, gets washed away in a killer of a camping weekend, and laps up the luxury in the Hunter Valley.
Just passing through
It's amazing how often you can be rewarded when you avoid the faster coast road and head inland. That was the case about a month ago, when a leisurely drive from Grafton to Armidale in northern NSW found us stumbling upon a little oasis in a two-horse town.
I asked the two old biddies outside the Coaching Station Inn at sleepy Nymboida whether we could get a feed inside. "You betcha, love," they said. And from that point on, nothing disappointed. The beers were as cold as ice, the steak sandwiches to die for, the pub was adorned with photos and jerseys of my favourite team (South Sydney), and the gorgeous Nymboida River was roaring over rapids in glorious sunshine. Ah, the serenity!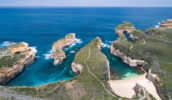 But the real reward was the pub's Museum of Interesting Things. A quick peek revealed a raft of memorabilia from the film sets of Gladiator and Master and Commander . . . and that's when the penny dropped. This homely spot on a lofty mound is only an hour and a bit from the country property of Hollywood star and South Sydney Club owner Russell Crowe. Just like the Remington man, Crowe liked the pub so much he bought the company. Then, about a year ago, he created a museum to house his wardrobe. Now that's a great find.
From boys to men
Old footballers never die; they just make disastrous comebacks. And the same could be said for those who were once first grade campers in their youth, but stupidly ventured into the wild blue yonder as ageing fathers.
This is what happened when I paid a visit late in '08 to Killelea State Recreation Park, an aptly named place on the NSW South Coast – apt for those who don't listen to the weather girl or the park ranger . . . that can be the killer. The excitement overwhelmed us warriors of the wild. Keeping the rusty camping gear for three decades seemed like a masterstroke at first (and didn't those flash new camp stretchers look smart?) but two families, led by two former boyhood camping champions, would rue that windy place by the sea.
Just like the Remington man, Crowe liked the pub so much he bought the company.
The foxes scared the living hell out of the kids (someone did tell me about them), the old rusty kitchenware turned a decent meal orange, and those camp stretchers felt like we were sleeping on mortuary slabs.
And that was before the tornado hit. There wasn't much left of our old Coolabah canvas tents after that. The eating utensils disappeared into the thick scrub and the girls screeched away with the kids to find refuge at a nearby B&B.
Yes, I remember what the scoutmaster said all those years ago: Be prepared. But it's been a long time between woggles.
Towering luxury
As I've mentioned previously, WA's Margaret River is classic wine country entwined with incredible landscapes. But as I was reminded recently, after tiring of all these fateful camping trips, the Hunter Valley, too, has developed into a network of tree-lined avenues, featuring some truly sophisticated accommodation and cellar doors.
One in particular epitomises this emergent luxury and is steeped in the history of the place. It was the late Hunter Valley stalwart Len Evans OBE OA who gathered together a group of equally passionate and influential mates to give birth to Tower Lodge and Estate Winery. In short, this is unique quality, combining Tuscan and retro antique influences to create a dozen gob-smacking guestrooms with an unbeatable and alluring fireside room and grand lounge.There's the heated pool, sauna, gym and massage room, of course. But where else could you play on an 18-hole "chip and putt" mini-golf course? Now, this is a round of golf I could get very used to.
Sometimes luxury works wonders. But just one tip: don't hit the course after you've gone on a vino frenzy. You don't need a big Bertha to make a fool of yourself.
*HAVE YOUR SAY: Got a question or a comment for Chris? Email csmith@australiantraveller.com and tune in to 2GB 873 every weekday afternoon.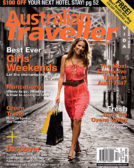 Enjoy this article?
You can find it in Issue 28 along with
loads of other great stories and tips.