Canberra's National Zoo and Aquarium has a very spcial Walk on the Wild Side tour where you become a zookeeper for the day
Walk on the Wild Side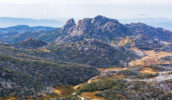 At the National Zoo and Aquarium, AT's Quentin Long samples the working life of a zookeeper and fulfils his lifelong dream of becoming a terrified dribbling mess for a day . . .
A bear's tongue is quite soft. Not like the sandpaper of a cat. More like my dog. However, the huge slab of pink slobbery flesh covering my entire hand to get at the Weetbix and mango smeared all over my palm is no great, scary, stomach-lurching affair. Especially after having had a lion, tiger, snow leopard and cougar slobber over me first. As well as having shoved my hand into a bucket of squid to feed shark and barramundi. Oh, and throwing smelly little fish at otters. So far the day has been without any great fear, but my expectation of gut-clenching, brain-exploding terror remains high.
The Walk on the Wild Side (WOW) tour at the National Zoo and Aquarium in Canberra invites you to "Become a Zookeeper for a day". As my keeper for the day points out, it's all the good things about being a zookeeper without any of the bad. (The bad, presumably, involves loads of poo.)
Starting at 8:00 am, the Walk on the Wild Side is seven hours of feeding, stroking, and the preparation of food in order to do more feeding. For any animal lover or kid with veterinary tendencies, it's heaven.
The things I learn on the WOW tour are remarkable. A giraffe's tongue is blue to avoid sunburn. The most dangerous animals for zookeepers are elephants and zebras. The zebra's lack of kneecap means they can kick any which way. So I won't be feeding zebras today since my insurance wouldn't cover it. I am surprised at what insurance does cover, though.
After the giraffes, it's time to feed the tigers a lean slab of venison. Yes, zookeepers have to worry about the caloric consumption of their charges. The weight gain of the lions has been of some concern, so their slab of venison is smaller.
And for morning tea, my keeper and I hang the hind leg of a deer from the viewing platform of the puma enclosure. We can all eat together; deer for the pumas, coffee and cake for me.
For a grand finale, I get to meet the King face to face. No, not a balding fat man in a jumpsuit, but the King Cheetah.
The King Cheetah, courtesy of a genetic variance, has stripes instead of spots. The carnivore keepers at the National Zoo (like some upper echelon of keeping) have worked very hard on making all the cheetahs at the National Zoo people friendly. "Go down on one knee and stroke," I'm told. "Then if we say step away, you can easily rise to one foot and take one step backward."
Oh, jolly good. Can't I take the sprinters' start instead?
Entering the King Cheetah enclosure I approach The King a hunka hunka burning trepidation. The King casts a lazy eye over me. Then on one knee I stroke his soft, course fur. The King isn't fazed. So neither am I.
Deciding I need some better photos, the carnivore keeper manhandles the King to the top of some rocks where I'm expected to sit with my arm around the royal neck. His head is now less than 20cm from mine, so it's hard to smile for this Kodak moment. Then the King looks directly into my eyes. And there it is. That gut-wrenching moment of pure terror where all I want to do is scream like a baby and run. Yes, I know the King was just curious but I saw intent and hunger in those big, round, carnivorous eyes. I managed to ratchet the smile up a notch and keep fear at bay.
Out of the enclosure, I'm exhilarated. Six foot tall and bullet proof. Yes, I like being a keeper for a day. Just not for life.
Details // Walk on the Wild Side
National Zoo and Aquarium
Scrivener Dam, Yarralumla ACT.
Walk on the Wild Side Tour $550 per person. You must be 12 years plus and 1.5m tall and over. Includes lunch and morning tea.
Zoo Venture is a two-hour version of the WOW tour ($95 weekday, $125 weekends).
Meet The King/Cheetah is a 15min encounter with a cheetah or the King Cheetah (included in WOW tour, or $150 pp, max of two for the Meet the Cheetahs and $195 for Meet the King Cheetah.)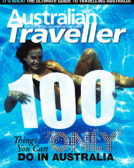 Enjoy this article?
You can find it in Issue 20 along with
loads of other great stories and tips.