Walk the Walk

AT readers Justine Williams and Niall Kinch discover the perfect trail to the mainland's southernmost point.
I'm not sure why I had to do it. Perhaps it's just that modern-day practice of creating lists and ticking things off as a sign of achievement. In any case, the southernmost tip of mainland Australia, Wilsons Promontory, had been on my list for some time. Having finally found the motivation to book the flights, hire the car and organise the permits and the girlfriend, we headed off. Now I can't believe I waited so long.
On approaching the Prom, one of Victoria's premier national parks, the region appeared typical of a harsh and exposed coastal landscape; stunted heath scattered across golden sand dunes with distant outcrops of granite gave a hint of what was to come. Gazing down on the beautiful beaches was spectacular, although the swell and wind from the southern ocean suggested something more menacing. The cool air encouraged us back to the car and as we drove towards Tidal Flat we could spot more and more islands emerging on the horizon. We were starting to get excited.
Tidal Flat has all the facilities a car camper could ever want, but this wasn't the experience we were after. Most of the southern regions of the park can only be accessed by foot and limited permits are given out at any one time. As a result the trails are in fantastic condition, campsites aren't overcrowded and almost no litter can be seen. We were very impressed and almost felt embarrassed by the condition of many of the national parks in NSW where we spend much of our spare time walking.
"All you need to enjoy this amazing place is a permit, a moderate fitness level and a cask of wine as you sit and watch the seals play in Little Waterloo Beach."
The first day's walk was an easy 12km and we reached our first camp at Roaring Meg in good time, leaving us an opportunity to stake a claim in the campsite before continuing to the southernmost part of mainland Australia, South Point. This is a side walk not to be missed, although the track was surprisingly overgrown – it weaves and winds through moist gullies and overexposed spurs for 3.5km before reaching the edge of this massive continent.
The second day was to be our longest walk, around 24km as we headed to Refuge Cove via the lighthouse and Little Waterloo Beach. We were fortunate: overnight rain stopped as we woke, and despite a minor headache from a cask of red wine and the appearance of a couple of leaches, we were in good spirits. We started traversing a series of ridges and gullies that took us further towards the coast. Within an hour we were walking parallel to the mighty southern ocean with its deafening wind and powerful swell.
When we first glimpsed the lighthouse we were excited by its presence (and because morning tea was approaching). We underestimated the final walk to the lighthouse due to the steep climb up to the ridge, but when we arrived we were amazed by the setting. It was similar to a rural Irish landscape: whitewash buildings set against a green, grassed slope plummeting towards the ocean below and a huge blue sky above.
Lighthouse cabins are available for overnight stays, but rumour on the track has bookings required up to a year in advance. With 17km still to we walk we headed northeast and were immediately surprised by the change in landscape and climate. We decided to stop for lunch at Little Waterloo, another designated camping spot with drinking water, toilets and nice shady areas to relax out of the wind and sun – not to mention a beautiful empty beach. We just wanted to drop our packs and spend a few hours enjoying the afternoon sun, swimming and relaxing, but with a further 7km to go, there'd be no rest for this walking party.
Our next stop, Refuge Cove, was (as the name suggests) a perfect anchorage for yachts and powerboats escaping the swell and wind of Bass Strait. Once again we were provided with a pretty camping spot, next to a slow-moving river feeding out into the bay. Food and rest were on top of the list. Oh yes, and a little glass of wine.
A tidal river crossing 5km into our third day required an early start. Another beach walk was ahead, lined with what seemed jungle on one side and ocean on the other. We watched as a young family walked at the pace of the youngest child (about three years old), and we discussed how different their walk was to ours. We were impressed with the patience of the parents and the ability of the kids, who were each carrying their own packs. It was a lovely reminder that you don't have to cover 60km in three days to enjoy your outdoor experience.
We turned left off the beach and were surprised to find a boardwalk through a dense, low-lying gully of tree ferns. Sealers Swamp boardwalk offered a welcome relief to all that soft-sand beach walking. The cool dark environment with the sounds of frogs and plenty of birdlife was different to anything we'd seen over the past three days. It's unfortunate that we were beginning to think like Sydneysiders again as the walk came to an end and our thoughts turned to "making good time."
The final climb out of the fern gully and up and over the saddle was relatively easy and we did in fact make good time back to our car. We felt pleased with ourselves for making the effort to get down to The Prom and complete the southern circuit. It's a diverse landscape of outstanding scenic qualities, with enough exposure to the southern ocean to gain an appreciation of the forces that shaped it. All you need to enjoy this amazing place is a permit, a moderate fitness level and a cask of wine as you sit and watch the seals play in Little Waterloo Beach.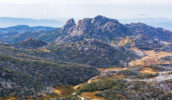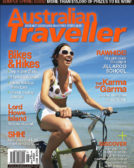 Enjoy this article?
You can find it in Issue 17 along with
loads of other great stories and tips.