Australian Traveller wraps up all the action of the 2006 Mark Webber Pure Tasmania Challenge.
Webber's run on the wild side

Greg Clarke wraps up the triumphs and pitfalls of the 2006 Mark Webber Pure Tasmania Challenge.
The Mark Webber Pure Tasmania Challenge was held in Tasmania in November 2006 and while a bank vault's worth of stars, including Craig Mottram, Mike McKay, Guy Andrews and Grace McClure, joined Australia's only F1 racer in the 600km adventure race, plenty of ordinary Joes plunged into the wilds of Tassie with Webber too.
As it happens, one of the ordinary Joes was Joe Young, a 45-year-old WA sheep farmer. Young had a hoot of a time and expressed his enjoyment of adventure racing (read: self-inflicted torture) through his decidedly novel training regime. The wiry cocky musters the sheep on his 810-hectare farm on his mountain bike, often covering up to 25km a day when working his flock. "Rarely I'd do less than 10k a day riding around the farm," says Young who, as a sheep trader, turns over 22,000 baa-baas a year.
To prepare for the kayaking sections of the race, Young kept to his novelty routine by putting his kayak in a dam, tying it to a nearby windmill, then refining his stroke. He's stationery for all of his 45min sessions. "The dam's too short. It's only 30m," says Young, deadpanning the fixing-to-the-windmill scenario.
Young was part of an over 45s team that included his mate John Saul, who took up ultra-marathons at 40 to lose the weight he put on in his 30s. While you could put a case for having both men committed to straightjackets, consider this: both gracefully ageing gents wore smiles for much of the race.


Helen reeves had candour stowed in her backpack. "I got a thorn in a place i wouldn't have expected."

There were two all-girl teams in the challenge. For the most part, British round-the-world yachtswoman Dee Caffari carried an uplifting smile as well as her daily provisions. Triathelete Grace McClure provided the glamour while Helen Reeves had candour stowed in her backpack. "I got a thorn in a place I wouldn't have expected and I said to the other girls, 'That's the closest to a prick I'll get this week.'" Kylie Hutchison also had a memorable Day 3. Her boyfriend proposed via text message. (Apparently that's acceptable these days.)
For many racers Day 3, personal issues aside, may have been the highlight. It included a 33km hike through untracked sections of the Walls of Jerusalem National Park. This remnant of Gondwanaland also includes copses of thousand-year-old pencil pines hiding in the shadows of hulking walls of dolerite rocks. After the Walls there was a brief mountain bike section before a stage of white water rafting on the Mersey. Webber has some pull in Tassie. The floodgates on the dammed river were opened and a section of the Mersey, a renowned kayaking course, thundered.
Twelve teams, four people in each, took part in the race which, so far, has raised almost $500,000 for cancer charities. Another Webber Challenge is scheduled for later this year. To all the ordinary Joes who can stump up the 25k per team, now might be a good time to get on your bike and start rounding up those sheep – plenty of time to prepare for the next Challenge.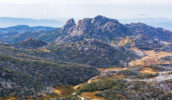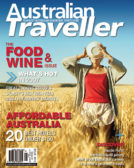 Enjoy this article?
You can find it in Issue 13 along with
loads of other great stories and tips.