Weird and wonderful Aussie lodgings that will appeal to both parents and kids…

There are plenty of weird and wonderful lodgings around the country that appeal to kids. Here we find some perfectly bizarre spaces for the ideal fantasy sleep-over.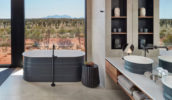 Inn the Pink
We found one! A pink motel, set among tropical vegetation in Cairns. For kids looking for something totally abstract, The All Round Motel is affordable, family-run, and has flamingo pink facades for the lovers of bizarre lodgings or the next aspiring Australian architect. With self-catering facilities and a crystal clear swimming pool, this pink palace definitely deserves consideration.
phone: (07) 40514800
email: alround@bigpond.net.au
Hinchinbrook Lodge
Your kids want to sleep in a tree house? We've found one of these, too. On Queensland's Hinchinbrook Island, sleep-overs in crafted timber tree houses nestled into massive tree trunks will bring out the Robinson Crusoe in anyone, with views stretching across the Coral Sea from your private treetop balcony.
Below the lodge sits Orchid beach, an untouched sandy cove. If you close your eyes you can almost picture monkeys swinging from the rainforest trees and skittering across the sand – this is a wilderness wonderland. Kids will also love the Lodge's nature tour: the resident goanna seems to be the highlight.
phone: (07) 4066 8270
website: www.hinchinbrooklodge.com.au
Lighthouse living
Split Point lighthouse in Aireys Inlet, Vic, made famous by the TV show Round the Twist, is open daily for tours. Legend has it that it's haunted. Go and see for yourself. Unfortunately you can't sleep on the property grounds or in a keeper's cottage, but nearby Airleys Inlet Holiday Park (1800 66 88 66, www.aicp.com.au) will look after you. Phone Ecologic to arrange your lighthouse sightseeing trip ([03] 5263 1133, www.ecologic.net.au).
And if you're certain it's a lighthouse experiences you're after, Norah Head Lighthouse in NSW is a heritage-listed beacon with three bedrooms and a sweeping veranda, a garden for kids to play in and other facilities. An amazing place for a family holiday. Free lighthouse trips included, (02) 4385 4430.
Coober Pedy
Underground lodgings are a must in opal-rich Coober Pedy. It's an experience any explorative little soul would love. Coober Pedy Experience Motel is a prime example of what you can expect: the complex was originally a working opal mine and was only years later transformed into the resting spot it is today. Transport your family to the early 1900s and learn of the original Coober Pedy lifestyle. Today, lucky visitors might still stumble upon an opal or two, but for those less fortunate there are plenty of shops in town selling them.
phone: (08) 8672 5777
website: www.cooberpedyexperience.com.au
WANT FIVE MORE?
Don't forget these other great ideas for kids:
1. Paradise Resort Gold Coast, (07) 5579 4444, www.paradiseresort.com.au
2. Cape Don Lighthouse Experience, NT (08) 8979 0030, www.lighthouse.net.au
3. Zoofari Lodge, Western Plains Zoo, NSW (02) 6881 1488, www.westernplainszoo.com.au
4. Croc-shaped Holiday Inn, Jabiru, NT (08) 8979 9000, www.holiday-inn.com
5. Cape Bruny Lightstation, Tas (03) 6298 3114, www.lighthouse.net.au
EVEN MORE ESSENTIAL WEB-EXCLUSIVE LINKS
1. Kingfisher Bay, QLD (1 800 072 555)
www.kingfisherbay.com
2. Cassawong Cottages, QLD (07) 40688500
www.cassawongcottages.weebly.com
3. Great Keppel Island, QLD (1 800 245 658)
www.greatkeppelresort.com.au
4. Yarrabin, NSW (02) 6337 5712
www.yarrabin.com
5. Desert Cave Hotel, SA (08) 8672 5688
www.desertcave.com.au
6. Wittacork Dairy Cottages, QLD (07) 5494 4369
www.wittacork.com.au
7. Bestbrook Mountain Resort, QLD (07) 4666 1282
www.bestbrook.com.au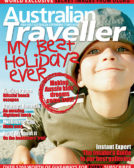 Enjoy this article?
You can find it in Issue 11 along with
loads of other great stories and tips.