A feature listing sites that were something else in the past life but now have been converted to hotels
Weird & Wonderful Conversions

Travel historian Barry Stone explores six magnificent hotel conversions to discover a little more about their past lives, and present potential.
Hotel Lindrum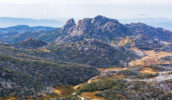 Tucked away on Flinders Street, the swank Hotel Lindrum is one of Melbourne's architectural treasures. Originally a storehouse for Griffiths Brothers Tea Merchants, a publishing house in the 1960s, and later a billiard hall with connections to the great Australian snooker player Walter Lindrum, this red brick, Romanesque Revival-style classic has now been transformed into one of the city's most exclusive boutique hotels with a soft, club-like atmosphere courtesy of international designers Fripp & Bradford. Rack 'em up. (03) 9668 1111, www.hotellindrum.com.au
Moo Manor
Moo Manor in Leura, NSW, is one of six eclectic buildings that cascade across what is possibly the Blue Mountains' most laidback and welcoming corner block, low down in a hollow on the quiet side of the Great Western Highway and known collectively to the lucky few who've stayed there as The Old Leura Dairy. Moo Manor is the home you always wanted: three bedrooms, fabulous kitchen, slow combustion heater and all the ambience you could wish for. Recycled materials include perfectly placed internal panels of corrugated iron and a lovely old 1950s lounge suite in a room where anything "new" would simply be missing the point. You won't want to leave. (02) 4782 0700, www.oldleuradairy.com
The Old Priory
In 1886 four Brigidine nuns set sail from Abbeyleix in Ireland to build a school and convent in the Victorian town of Beechworth. When the school finally closed in 1978, it was later purchased by Graeme and Pam Bell, who'll welcome you into their cloistered world of seclusion and charm. Accommodation varies from mezzanine-style rooms to comfortable dormitories for larger groups with shared facilities. Two original miners' cottages out back offer a rustic night to remember, with their slate floors and exposed brick walls. (03) 5728 1024, www.oldpriory.com.au
Tynte Street Fire Engine Inn
Rodney and Regina Twiss are the owners of more than 20 remarkable Adelaide heritage-listed properties, including the city's very first fire station. And, as if to prove their determination in maintaining authenticity, there's an 1942 fire engine parked right in the bedroom. Genuine reminders of its working life, such as 1960s fire helmets and a fire bell, still adorn the downstairs and upstairs living areas. Kids will go crazy over the fire engine. So will Mum and Dad. (08) 8272 1355, www.adelaideheritage.com
Norah Head Lighthouse cottage
Located between Budgewoi and The Entrance on the NSW Central Coast, Norah Head Lighthouse was finished in 1903 and became fully automated in 1995. Today you can stay in one of two lightkeeper's cottages that have been restored with a careful eye to maintaining their unique heritage listing. A white picket fence not only stops you wandering over cliff edges as you ogle the spectacular views, but also makes it a practical option for either families or that romantic weekend for two. Lighthouse tours can be arranged. (02) 4396 4102, www.norahheadlighthouse.com.au
Medina Grand Adelaide Treasury
Situated in the heart of Adelaide's CBD, the Medina Grand is a perfect blend of old and new. The external Georgian façade of the former Treasury building has been meticulously restored, while the interior has been refitted and offers everything you'd expect of a modern four star hotel, including a very red, New York-style bar that stands alongside original sandstone archways, which have been retained and allowed to age gracefully. Oh, and be sure to ask for a private tour of the spooky, abandoned underground bank vaults that you won't find on the Medina website. (08) 8112 0000, www.medina.com.au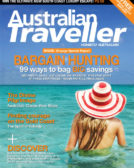 Enjoy this article?
You can find it in Issue 25 along with
loads of other great stories and tips.