The outback is full of magnificence and majesty, no question. But it's also full of some pretty weird stuff. From underground galleries to $600 hamburgers, David Whitley takes a few of the more peculiar bush tours available out there.

1/ Become a dirty miner
At Coober Pedy, underground tours are ten a penny. But the Down N Dirty tour is a little step beyond. It involves the usual barrage of history, the chance to look around a mine and an opportunity to rummage around in the mullocks of rubble in the vague hope of finding an opal. But the really interesting part is when they get the deadly weapons out. Inside the Quest mine, visitors are given a hardhat, torch and pickaxe and told to go for their life. That's the "Dirty" part, incidentally. Details // 4hr tour available through the Desert Cave Hotel (www.desertcave.com.au, 08 8672 5688) for $105 per person.
2/ Play plane postie
Another option for a scenic outback flight with a twist is to head out on the Golden Eagle mail run from Newman in northern central WA. As part of its remit, Australia Post has to deliver to absolute whoop-whoop, and, frankly, it can't be bothered to do that as part of its normal service. So it hires contractors such as Golden Eagle to fly to ultra-remote properties in the Pilbara. The cunning swines have turned the rather mundane task of hopping from mailbox to mailbox into a tourist experience. Thus anyone who wishes to land on a few dirt runways in the middle of nowhere while the odd letter gets delivered can hop on board to visit well known hotspots such as Balfour Downs, Punmu and Jiggalong. Details // Every Tuesday, 8.30am-3.15pm, $320 per person. Book through the Newman Visitor Centre (08 9175 2888, newman.org.au).
3/ Visit the absolute pits
It's the bizarro Uluru! Only this one is in Kalgoorlie. And, just like that famous rock in the middle of nowhere, to see is to believe. Both are 3.5 km long, about 1.5 km wide and considered a goldmine for the owners. Kalgoorlie's Super Pit is currently the biggest open-cut mine in Australia, and as such everything involved is amazingly oversized; from the three storey-high dump trucks to the sheer numbers: 850,000 ounces of gold mined a year at a street value of $1.45bn, and all this requires some serious amounts of blasting powder to find it. Details // Finders Keepers operate a twice daily Super Pit Tour, Mon-Sat, for $60 adults (www.finderskeepersgold.com), and mine operators KCGM run free tours of the mine every third Sunday of the month (www.superpit.com.au).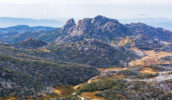 4/ Eat the world's most expensive burger
While the burgers at the Birdsville Pub are relatively good, they're hardly world beating. And worth $600? Now that's a bit of a push. However, Charleville's Outback Airtours are graciously offering to fly people out to Birdsville so that they can sink their teeth into the wallet-busting burger. On the way, they fly over some seriously spectacular outback scenery and there's a walking tour of Birdsville once you get there to help create space for the bun-encased feast. Details // The flight is free, but the burger costs $600. However, if four people come along, the burgers only cost $150 each. Strange, that. (07) 4654 3033.
5/ The Chambers of the Black Hand
At Lightning Ridge, the northernmost stop on the famous Darling River Run and a township already chockfull of oddities, this one takes the cake and eats it too. Set 12m underground in a 100-plus-year-old opal mine, the Chambers of the Black Hand form a hand-carved gallery of sandstone murals as eclectic as they come. Over ten years in the making, it's the work of local Ron Canlin and it drips of eccentricity and talent. Figures chiselled into the walls include anything and everything from Biblical scenes to pop culture to Egyptian hieroglyphics. Details // Daily tours $20 a head (with a free cuppa), book ahead on (02) 6829 0221, www.chambersoftheblackhand.com.au
6/ Come face to face with that great beard in the sky
The two-hour Astro Tours from Broome aren't just a quick look at the stars, but an education in the complexities of the galaxy and majesty of the cosmos. Run by the gruff-looking but softly spoken Greg Quicke, a self-taught astronomer with one of the most impressive beards you'll ever see, Astro Tours offer the layperson the chance to appreciate and – finally – understand stargazing. Guests are taken inland from Broome to escape light pollution and find crystal-clear skies for the best possible resolution. Greg's easy manner and ability to explain almost outshines the chance to see anything from binary star systems to Saturn's rings. Details // Four shows a week, $75 adults, $45 kids, under-6s free. Bookings 0417 949 958 or (08) 9193-5362 www.astrotours.net
It can be quite odd [weirdest outback tours]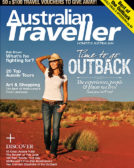 Enjoy this article?
You can find it in Issue 27 along with
loads of other great stories and tips.