My name is Steve, Australian Traveller's new web editor, and I have a problem. Actually, it is closer to a fetish really. Let me explain.
You see, I love a good long hike. During the next year, I have set my sites on a couple of Australia's best, including the Northern Territory's Jatbula Trail and a chunk of the Australian Alps Walking Track.
To coincide with the new job I thought it would be fitting to fit in to a new pair of hiking boots. Strangely, this is where my dilemma starts. You see, I have a 'special', some would say 'unnatural', relationship with my hiking boots.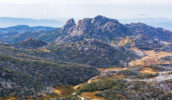 I'm one of those guys who thinks he can get away with wearing his boots all the time; weddings, funerals. Heck, I'd wear them swimming if they came equipped with floaties or retractable flippers (now there's an idea).
My travelling companions (I'm talking about my boots, of course) have toiled their way through much of my travels, laying rubber wherever I have rambled, and I was hoping they would join me for my rediscovery of Australia after a few years overseas. But to be honest Mt Kilimanjaro back in 2011 was their grand finale and I've been closing my eyes to their afflictions ever since.
I was ordered by friends and family (intervention style) to visit Sydney's adventure-shop quarter (Kent Street) to adopt a new pair of chunky-soled, Gore-Tex hikers. But I made the fundamental mistake of wearing my old mates. Every time I eyed off a pair of seductive, high-end all-terrain footwear, it felt as though I was being unfaithful.
It was like I was at the pound selecting a new bouncy pair of puppies, while my senile, faithful foot-hounds looked up in tearful, resigned indignation, before looking away in a huff.
I talked myself into, and then out of, a range of seductively-soled boots; many a sales attendant was ready to ring up the cash register, only to be defeated by one of my lame excuses, before I would scurry away. I tried them all: Paddy Pallin, Patagonia, Mountain Designs, Larry Adler, Mountain Equipment, Snowgum, Trek & Travel, Kathmandu and Macpac.
Maybe it was just too soon. Yet surely some of you understand, silently suffering from some degree of my affliction: a clinically sentimental attachment to an inanimate object; one that has been with you during the most adventurous moments of your travel nirvana. A ridiculous old hat, perhaps, bought at markets in lower-south-western Whoop Whoop? A t-shirt that you think gives you a certain level of travel cred, but is threadbare to the point of transparency? A backpack that has undergone electrical-tape surgery?
I guess to strangers my hikers probably smell like twenty-year-old ski boots on the inside and a selection of feral animals on the outer, but to me they only reek of past adventures. Unquestionably loyal, when I walked over them, their sole (and soul) remained strong – until recently that is.
The end is nigh. Their tongues are tired, their Gore Tex is water resigned rather than water resistant; their arches have become my enemy.
Right now they're under my bed, snoring loudly, in semi retirement. Maybe, one day, I will have them cryogenically frozen or even stuffed and mounted – one day, sigh.
But I have to be brave: they are not up to the creeks and rocky terrain of the Australian Alps Walking Track. So it's time for another trip down to the adventure quarter.
If I can decide on a worthy replacement pair, I'll probably keep them under my desk here at work for a while. No need to upset the old dears, now is there?