We talk to artist Adriana Picker about the benefits of a little colouring-in and her new book Where The Wildflowers Grow.
Your first adult colouring book, The Garden Of Earthly Delights, is full of magical illustrations, what was your inspiration for the 'garden'?
The natural world is the greatest creator of diversity, beauty and grace. Nothing to me is more inspiring than the imagination of nature.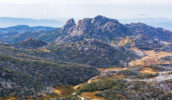 I have been obsessed with plant life since I was a little girl exploring my Grandmother's garden.
Not surprisingly, the plants she grew are now some of my favourites to draw – begonias, orchids and crocus.
There are definitely a few little nods to my Grandmother in this book.
Your latest book, Where The Wildflowers Grow is a nod to our native flora. Have you always been drawn to Australian flowers?
I grew up in the Blue Mountains and our house backed onto the national park at Wentworth Falls, so as a family we spent a great deal of time in the bush.
Mum would teach me the botanical names for things and I think her passion for the incredible endemic plant species of the area infected me at quite a young age.
Why did you decide to create a colouring book for adults?
I was approached by my publisher Hardie Grant with the concept and immediately felt that my intricate, mostly black-and-white style of illustration would lend itself well to a colouring book.
My favourite subject matter to work with being plant life is also intrinsically calming and meditative.
Have you had a great response to the book so far? Do people send you pictures of their handiwork?
We were caught a little off-guard when the first print run sold out within two weeks of being on shelves in Australia.
I am really excited to see how people are interacting with my work. There has been quite a few things posted on Instagram; it's such a new concept for me to see others 'completing' my illustrations.
Why do you think it's important to take time out to do meditative tasks like colouring?
With the amount of time we now all spend in front of screens I don't think it is very surprising that people have taken so strongly to this relatively new activity of adult colouring-in.
It is very important for our general health and our sleeping habits to give the mind a break from technology.
Apart from the increasingly recognised mental health benefits of colouring, I think people just simply enjoy being a little creative.
What can we expect next from you?
After having two books published within eight months I am quite happy to have a bit of a break, but I don't think it will be a long one! There are a couple of books in the works, which is exciting!
Where The Wildflowers Grow by Adriana Picker, $19.95, Hardie Grant Books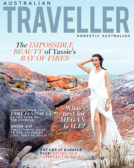 Enjoy this article?
You can find it in Issue 69 along with
loads of other great stories and tips.