Winter Tech
Heading for snow country this season? Worried about leaving it all behind? Don't fret. This year there are more gadgets ready for your winter sojourn than you can shake a frozen stick at.

SOLAR SeV Finetex System Jacket ($850, above)
Gadgets can really chew up the batteries, and even rechargeables can take up valuable après ski time if you want to keep them all charged every day. The SOLAR SeV jacket will help take a load off. It features solar panels in the upper back area plus a hefty 42 pockets for gadget storage. A battery unit soaks up the power and sits ready to help recharge your gear while you're right there on the slopes.

Suunto S6 Wristop Computer ($805)
The ultimate watch for any self-respecting powder hound. The Suunto S6 includes more "ometers" than you can handle, covering speed, timing, altitude, compass bearings, and weather trends. You can also set alarms to warn of dangers such as incoming storms. Includes some nifty software for transferring data to your computer so you can analyse your endeavours after the lifts have closed – a nice feature for winter athletes in training. Tells the time too.

Garmin Geko 201 GPS ($315)
One of the most compact global positioning system units on the market. Weighing in at just 96 grams, the Geko 201 can still manage to store up to 20 routes with 150 waypoints per route. Upcoming turn features help you stay on top of the job, while the TracBack feature will guide you home again after a hard day of off-piste action.

GME Epirb Emergency Beacon ($285)
So you've gone off piste and gotten yourself in a pickle? Lie back and thank the snow gods for convincing you to invest in an emergency beacon. The beacon conforms to Australian and New Zealand standards for marine and aviation applications, meaning a search party will be able to come and rescue you if you're lost in the snow. Small enough to keep in your pocket, and includes signals to indicate operation so you know it's working – or know to stop it if you accidentally set it off, thus preventing an embarrassing situation.

Siemens M65 ($499)
If you have to have a phone on you while you're enjoying the slopes – and that's a bit sad, really – you'd better take a mobile that's up for the conditions. The Siemens M65 is one of the toughest phones on the market, featuring water, shock and dust-resistant features so it can take a beating when you inevitably take a tumble while trying to talk and ski simultaneously. Also features an integrated camera for stills and video.
Sony Walkman E series (from $169)
Sony has just joined the Flash audio player market, offering up a tiny puck-shaped unit in three colours. Flash players are perfect for any sport – no moving parts, so no skipping troubles when you're on the move. Available in 512MB and 1GB models, the Walkman supports MP3 and Sony's ATRAC3 formats and weighs in at just 30 grams. Runs on a single AAA battery and boasts 70 hours playback. That's a full week of intensive ski sessions.

JVC Everio GZ-MC100 ($2199)
The perfect camera for your latest Warren Miller-style epic. This tapeless video camera uses a special 4GB Microdrive removable media format, plus room for CompactFlash and SD cards for extra storage. Video is recorded in DVD quality MPEG-2 with Dolby Digital Audio encoding and digital stills can be taken at 1600 x 1200 resolution. Got all that? Other features include 10x optical zoom, built-in auto flash, stereo voice recorder function, and PictBridge support for easy photo printing. The slim vertical form factor makes it easy to tuck away in a ski jacket arm pocket.

Sandisk Photo Album ($109.95)
With the Sandisk Photo Album, you can drop almost any memory card into the device and view a slideshow of your day's photos on TV. Navigation is all by remote control so you can just sit back with a schnapps or two and enjoy the show. With some MP3s on the memory card you can add a soundtrack to the mix. Make it suitably heroic.

MiniMax wireless modem (from $29 per month)
If you're the type who feels naked without net access, the MiniMax wireless modem will keep you online using Telstra's CDMA network. It plugs directly into any laptop via USB, making it one of the most compact wireless solutions around with no external power needed. The service includes a mobile telephony service, so you can make and receive voice calls and SMS through the included software and even send or receive those all-important faxes from your trip to the snow. You might get coverage up on the mountain, but with a specified operating temperature minimum of zero degrees, you'll probably be better off leaving your laptop back in the lodge.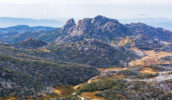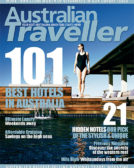 Enjoy this article?
You can find it in Issue 9 along with
loads of other great stories and tips.