Runners-up reader photos in the latest issue of Australian Traveller.
01. FAMILY PHOTO
"I took this photo of my family while at Belar Homestead, a farm stay just outside Dubbo, NSW. It was late afternoon and we took a stroll to the farm gate to look for kangaroos and cows. After a while we went into our own worlds as we walked along, each enjoying the country air in our own way. I love this photo as it captures a rare moment of tranquillity in our normally hectic city lives."
– Robert McRobbie, Kingsford, NSW
02. PALM VALLEY
"This is in Finke Gorge National Park, a couple of hours' drive out of Alice Springs. I was in Alice for work and had a spare day, so I did an AAT Kings day tour – Palm Valley Safari by 4WD. It was the first time I'd been to Central Australia, which was very exciting. The colours in Palm Valley were different from anywhere else I'd been. I was hooked and wanted to explore more!"
– Fiona Lockhart, Neutral Bay, NSW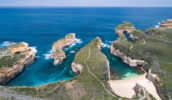 03. ON THE EDGE
"I took this at North Head in Sydney, looking north towards Manly. It's hard to believe we have such a beautiful landscape in our own backyard, and I'm sure not many people know that it's there to be viewed in all its beautiful glory. Imagine what Captain Cook must've thought as he made his way through the heads and into the harbour!"
– Darren Marten, Bronte, NSW
04. SPECCY SPAN
"This beautiful bridge spans the Wangaratta River in Victoria's High Country. We camped on the other side of the river during a 4WD trip that started in Mansfield, then headed through Licola and Talbotville, past Dargo to Lakes Entrance. From there we took the blacktop back to Melbourne."
– Francois van den Berg, Point Cook, Vic
05. PIER PRESSURE
"These young people have worked out the perfect way to beat the blistering conditions that accompany a January heatwave in Adelaide: jump off Henley Jetty!"
– Susan Belperio, Toorak Gardens, SA
06. SECRET COVE
"My husband, three kids and I accidentally stumbled across this beautiful little bay last March. As the crow flies, it's not too far from Hobart, but it's much further by road! We were at well-known Clifton Beach for a Surf Carnival and thought we would follow the signs to this cute-sounding spot (Opossum Bay) for a quick cool-off swim."
– Jacinta Brown, Gawler, Tas
CALLING ALL AUSTRALIAN TRAVELLERS!
For a chance to get your photograph published in Australian Traveller, send your favourite travel pictures to: photo@australiantraveller.com.
They must be hi-res – ie, 300dpi at a minimum of 10cm wide. Our winner each issue receives a fabulous major photographic prize.
Each runner-up receives a beautiful customised hardcover photo book from Cahoots – it's the perfect way to document your travels and showcase your favourite photos. cahootsphotos.com.au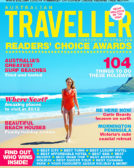 Enjoy this article?
You can find it in Issue 42 along with
loads of other great stories and tips.