It's hard to imagine Sydney in winter without VIVID. Maybe because it's officially been happening for 10 years. Yep that's right, 2018 will see the spectacular event filled with light, installations, talks and musical performances celebrate its 10-year anniversary.
Running from Friday 25 May to Saturday 16 June, VIVID Sydney 2018 is set to be the biggest yet.
And with 23 nights of innovation across 11 locations, here's where you can catch the best of the best across its light, music and ideas programs.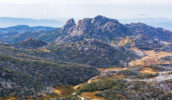 Our highlights: Light
Luna Park
Sydney's historic amusement park joins the VIVID party for the first time. A projection, The Spirit of Fun, will be taking over the park's Coney Island façade, Phantasos will light up the iconic Ferris Wheel each night. While you're there, visit Luna Park's restaurant The Deck restaurant for views of the light shows taking place across the harbour.
Lighting of the sails: Metamathemagical, Circular Quay
Australian artist, Jonathan Zawada, will light up the Sydney Opera House each night with his specially designed artworks that reflect the Australian environment. These designs will transition and change with a focus on neon colour and geometric patterns.
Revive the Reef, The Rocks
This is a show with a conscience. Revive The Reef aims to send an important message about the state of Australia's Great Barrier Reef, encouraging visitors to work together to change the future of our national treasure. As you and your new friends turn handles, the lights will transition from the bleached white of coral to a bright array of colours that mimic a healthy reef.
BALLpit, The Rocks
Located in the historic Cadmans Cottage, the Ballpit is ready for you to release your inner child. You will find a virtual ball pit where visitors can jump, swim and dance through the various rooms filled with interactive balls that change according to visitor movements.
The Sydney Harbour Bridgeclimb, The Rocks
As far as bucket list experiences go, climbing the Sydney Harbour Bridge is pretty up there. From 25 May to 16 June 2018, 134 metres high, climbers are invited to come and experience a 70's style lit-up dance floor, flashing in random multi-colours like in a giant '10' to mark the anniversary milestone.
Those lucky enough to participate will take in the visual feast of the illuminated city, including the best view of the Opera House. They will also become a part of the art in Vivid Climb vests fitted with flashing lights, visible to the Vivid fans below, enjoying the many creative installations around in Circular Quay and Darling Harbour.
Snugglepot and Cuddlepie, Customs House
A light show adaptation of May Gibbs' famous children's book Snugglepot and Cuddlepie will be displayed on Sydney's Customs House this year using original illustrations.
1000 cranes, The Rocks
There's an old Japanese legend that believes hanging 1000 origami cranes in one's house will bring good luck. This display commemorates this idea by featuring 1000 hanging origami cranes that light up as more visitors gather underneath them.
Our highlights: Music
Cat Power Moon Pix 20th Anniversary, Sydney Opera House, 31 May
US indie-folk singer-songwriter Cat Power appears as part of the Opera House's always-excellent Vivid LIVE program. The Australian exclusive marks 20 years since the release of her breakthrough album, Moon Pix.
St. Vincent, Carriageworks, Sunday 17 June
St. Vincent brings her searing live show to Carriageworks. The Grammy Award-winning rock star – and modern-day musical icon – performs following the release of her critically acclaimed fifth album, Masseduction.
Oxford Art Factory 2018 Vivid Program, Oxford Art Factory
Returning as a part of the Vivid Music program, Oxford Art Factory will celebrate art, culture and live music by bringing you their most diverse program yet. Full dates and program details will be released closer to the event so watch this space.
Our highlights: Ideas
The ABC guide to how to build a hit podcast, Sunday 3 June
In this panel discussion, guest speakers from the ABC's innovative content, product development and marketing departments will help budding podcasters workshop and build upon ideas.
Game changer: James Cameron, Sunday 27 May
Join award-winning director and explorer, James Cameron as he discusses what he has learned from his explorations and how he brings art and science together.
Future Fashion, Saturday 16 June
With this year's focus on the environment, this Vivid Ideas event is definitely a highlight. Join the discussion about the social and environmental impacts of the fast fashion industry and find out how you can help make changes.
Our highlights: Out of the city
Chatswood
For the last couple of years, Chatswood has been a Vivid highlight for those north of the bridge. This year, some highlights will be The Octopoda, a musical octopus illuminated above Chatswood Westfield's hawker lane. There will also be a huge 360-degree projections of NASA imagery called Future Scape on The Concourse. While you're there, make sure to stop by the Brazilian-inspired Light Markets which offer visitors foodie delights and interactive light displays.
Mosman
Taronga Zoo will also be holding a night-time offering, featuring incredible city and harbour views, plus a whole new perspective on wildlife conservation. Take in the stunning light sculptures, a 270-degree animated film and even purchase tickets for the Sky Safari for a unique experience. While the focus of the night is on the light displays, visitors may get a glimpse of some of the remarkable animals living within the zoo. Tickets are required and pre-booking is recommended due to limited spaces.
Getting There:
Due to the light installations and huge crowds entering the city, there will be major road closures each night in the CBD, The Rocks and Walsh Bay. Street parking will be extremely limited so we recommend you leave the car at home and take advantage of the extra bus and train services that will be running. Some of the best train stations to access attractions are Circular Quay, Wynyard, Town Hall and Chatswood. Ferries and the light rail are also great options to move throughout the city and harbour.
Best nights to go:
For those who will be visiting with children or want to avoid the hustle and bustle, we recommend visiting Monday to Thursday. During the week, the streets and displays will be quieter and more accessible. The festival's busiest nights are Friday, Saturday, Sunday, and the June long weekend, so if possible, avoid these nights to optimise your interaction with the installations.