Tim Fischer's 13th exclusive column for Australian Traveller looks at enigmatic Norfolk Island.
As chairman of Tourism Australia and a former Deputy Prime Minister, Tim Fischer has clocked up more travel miles than most people have had hot dinners. In the 13th of his exclusive columns for AT, he heads east from NSW to enigmatic Norfolk Island. Images by Greg Barton.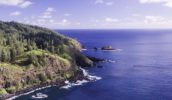 I had occasion to visit Norfolk Island, northeast of Sydney, most recently for two delightful days during a Regional Tourism Conference last July. But how best to add, now, to the voluminous body of work already written about that pretty place? It's roundly hailed as a Shangri-La of the seas. Were South Pacific to be produced again surely Norfolk, with its many beaches, forests, gardens and rolling hills, would top the list of locations for the Rodgers and Hammerstein classic.
The Norfolk Island Botanical Gardens are mouth-watering in their beauty, a relaxing but uplifting vista. Kingston and the Administrators Residence point to its rich and intriguing colonial past – twice used as penal settlements for those repeat offenders considered too vile to remain on mainland Australia – and many heritage buildings in the locality have been very well preserved. Strict controls ensure there are no clashing modern constructions near the heritage buildings or ruins of the Penal Gaol.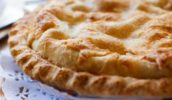 More recently a cyclorama has been completed that brilliantly portrays the history of the island as it pertains to the infamous mutiny on the Bounty, the subsequent settlement of the Pitcairn Islands and the ultimate move to Norfolk, a move sanctioned by Queen Victoria herself!
Hidden away behind the various chook sheds, duty free stores and rental car garages are some positively six star bungalows. In fact, the whole range of accommodation is available on the island, from hostel to hotel and motel and more.
Most of the 1800 permanent inhabitants – a good deal of whom can of course trace their ancestry directly to the survivors of the Bounty mutiny, Fletcher Christian perhaps foremost, and the Tahitians that accompanied them – work two, three or four jobs. It's not uncommon for a restaurateur to have one hand dipped into a lawn-mowing venture and the other into a sea kayaking company, all between serving on the local Legislative Assembly, rising at 5am to pick potatoes and playing a walk-on role in the riveting Sound and Light show that recounts grisly tales of the colonial era (not to be missed). Industrious indeed. But, paradoxically, all in order to preserve a lifestyle so laidback it approaches horizontal.
Speaking of sea kayaking, Norfolk, distinctive Pines and all, is trying to shed its reputation as a destination exclusive to the blue-rinse set by drawing more attention to adventurous activities. Paddling around the crinkling rim of the 8km by 5km island counts as one of these, as does mountain biking from the roof of the island atop Mt Bates, the island's highest point, and the only spot from which you can see every other spot. (Bates, incidentally, doubles as the perfect place to observe a delightful Norfolk custom: when a local or an islander dies, a row of 100 Norfolk Pines is planted in their honour. What a spectacular send-off! Several of these magnificent rows can be seen from atop Bates, the most impressive of which lines the approach to the historic Kingston area.)
Other taxing and excitable pursuits include a 20min open-boat (and often bumpy) excursion to nearby Phillip Island, a slip of a place that's home to a good dozen species of the most wonderful bird life. Early penal settlers reserved it as a kind of "hunting playground," setting loose pigs and rabbits there, of all things. Few landscapes can survive such catastrophic assault, but with careful tending the undergrowth is returning. The resident masked boobies and crested terns seem all the more content for it.
Flights to Norfolk have greatly improved with direct jet services from Brisbane and Sydney, and frequency is building nicely, ferrying increasing numbers. All in all this is how Aussies can enjoy the same longitude as New Zealand on the same latitude as the Gold and Bold Coasts, without quite leaving Australia – but with duty free shopping as a bonus. By the way, the shoe shopping is just terrific; men's and women's quality shoes that would attract the likes of Imelda Marcos if she was still around.
Norfolk Island //
Where // 1610km northeast of Sydney and 1456km southeast of Brisbane, just over two hours' flight. It's an external territory of Australia, so you'll need your passport.
Best Months To Go // Very temperate mid-20s temps for most of the year make this a moot point, although cyclones can threaten from January to May.
CONTACTS //
Norfolk Island Tourism // www.norfolkisland.nf, (+6723) 22946
Tropical Adventures Norfolk // www.adventuretours.nf, (+6723) 23208
Charter Marine (Phillip Island treks) // www.trekking.nf, (+6723) 23514 Fletcher's Mutiny Cyclorama // st.art@norfolk.nf, (+6723) 23871
Sound and Light show // www.pinetreetours.com, (+6723) 22424
ACCOMMODATION //
Tintoela of Norfolk // www.tintoela.nf, (+6723) 22147
Christians of Buck's Point // www.christians.nf, (+6723) 23833
Governor's Lodge Resort // www.governorslodge.nf, (+6723) 24400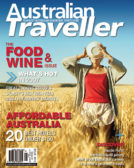 Enjoy this article?
You can find it in Issue 13 along with
loads of other great stories and tips.