Sofala, the friendliest town you've ever been too.
In 1947, when Russell Drysdale finished a painting of the tiny town of Sofala (right) near Bathurst in northern NSW, he didn't expect it to win the Wynne prize that same year. The old-fashioned buildings he depicted are washed with sunset colours of orange and brown along the sides of a narrow, dusty street. To this day the street looks much the same – give or take a few cars.
The peeling paint and crooked buildings lend Sofala a pioneering air and much is unchanged from more than 150 years ago. Gold was discovered in the local Turon River at the beginning of 1851 and, towards the end of the year, tens of thousands of people had rushed to Sofala to wallow in riches. Houses and shops popped up to support the miners and the gold lasted until 1948, making Sofala the oldest surviving gold town in Australia.
AT Reader Ross Johnson calls Sofala "The friendliest town I've ever been to. You can gold pan during the day, watch the stunning red sunset, and have a cold beer among the locals in the evenings." There are also plenty of walks to take, with the most popular in the Upper Turon leading to old buildings, a museum and gold diggings in the surrounding bush. It's said that gold can still be found in the river, and panning is a popular pursuit for visitors who can also swim in the gold-flecked waters.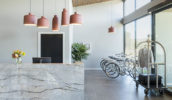 Where? // Around 241km (3hrs) northwest of Sydney.
Did you know? // Peter Weir, who directed such film greats as Gallipoli and Picnic at Hanging Rock, shot the very strange The Cars That Ate Paris, about a town that salvages car wrecks for money, in Sofala.
Return to: the 100 Best Towns in Australia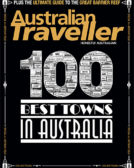 Enjoy this article?
You can find it in Issue 26 along with
loads of other great stories and tips.