Australia's most expensive secret?
Emirates Wolgan Valley Resort & Spa, Blue Mountains, NSW
This incredible hideaway has been hailed as Australia's only legitimate six-star resort – yet most of the population has either never heard of it, or doesn't know what, exactly, it is.
"The name 'Emirates' is generally associated with flying, which I think caused some confusion," points out Rickard.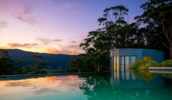 That's a true shame, because this resort – truly worthy of its moniker – "is amazing," says Ritchie, who gave it a perfect 10.
"My husband and I have been there a couple of times and it deserves every one of those stars."
Ross too, rates it highly. "Wolgan Valley is wonderful. I was so moved by the terrain there that I did something I haven't done since grade six, and that was get on a horse. I had a terrible trail horse in year six, he tried to buck me, don't talk about it – and I loved it. I forget how much I love the Australian landscape from time to time and that was a place where I remembered its beauty."
"Oh my god, the other thing about Wolgan Valley is: best beds in the entire world," adds Ritchie. "I am constantly having the argument with my husband. "Can we pleeeease throw out our bed and get the Wolgan Valley bed? Can we PLEEEEASE buy the Wolgan Valley bed? It's just… oh, you do not want to leave."
Prev<<<< Baird Bay Ocean Eco Experience, SA  Next >>>> Cape Range National Park, WA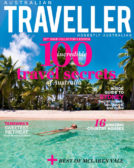 Enjoy this article?
You can find it in Issue 50 along with
loads of other great stories and tips.