He's cheap but never nasty. Australia's thriftiest father, Dorian Mode ventures to the NSW Blue Mountains and reveals how you can holiday without spending more than $30 on a family dinner, teach the kids a thing or two, and enjoy a budget family weekend. Yonks ago I penned a feature for AT entitled Blue Mountains on a Shoestring. It was very popular (my wife read it three times). That was pre-GFC, so this year the winter escape is an even more affordable affair. Hey, like most of us with kids, we're all on a budget, right? So we pointed the rust bucket once more to those Melancholy Hills and drove.
You'll be surprised when I tell you we stayed at the Carrington in Katoomba – one of the most glamorous hotels in the Blue Mountains. But did you know you can stay at the grand old girl for as little as $90 a night for a room? To put that in perspective, the Youth Hostel just down the road is $80 a night. Okay, for your 90 smackers you'll have to share a bathroom but if you have teenagers you'll be used to that. And it's not like you have to wait with your shaving kit for Room No.98 to finish his bath either. There's a superfluity of cubicled hot showers, all elegantly kitted out in the old-world charm of a country hotel.
The Carrington was built in 1896 and, along with Raffles in Singapore, was one of the jewels of the Empire. Moreover, the hotel is so old it had its own PowerStation to heat the place – and at one point Katoomba too – evidenced by the chimney that is now a town landmark. The electricity was also needed to power one of the country's first elevators, built by Otis at the turn of the 20th Century and still serving the hotel today, which is why I had to carry my fricking suitcase up three flights of stairs.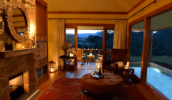 Additionally, the first telephone exchange for the area was housed at the Carrington. Love it! I'm a nostalgia buff, so to lounge around in my cravat and smoking jacket in the billiards room with its cosy fireplaces and sun-marked sepia photos is my idea of retro heaven.
Another advantage of staying at the Carrington is you're centrally located. Katoomba's trendy restaurants, cafes and antique shops are right at the front door. (Tip: consider arriving by train from Sydney. The station is less than a one-minute walk from the hotel.)
Now, the reason we're staying at the Carrington is they've opened an outdoor ice-skating rink, brought to you by Photoshop. The poster suggests the entire front grounds of the hotel is one giant frozen lake – like something out of an '80s American Christmas movie starring Macaulay Culkin. In reality it's more like a frozen lap pool, which left my teenage son none too impressed. But if you have little ones, they'll have a ball, evinced by the giggles and squeals inside the ice rink tent. Look for the ice midden beside the rink, teens always enjoy a snowball fight. (Snowball fights just an hour from Sydney? Gotta love that.) So, ignoring the Oompa Loompa dimensions of the rink, this is another clever initiative by the folk in the Blue Mountains that embodies the lateral thinking of the place.
Our first destination is a fun shop for kids called Weirder the Better. Only two doors down from the Carrington, it's a real treat for the offspring. My son loves magic tricks and circus paraphernalia, so he hits it off with owner Graham Pinning, a circus performer who rides to work on a unicycle (ideal for parking). He'll even give your kids a free juggling lesson. And boy can he juggle! I've got him doing my tax.
We then hightail it over to Hazelbrook and drop in on Selwood Science and Puzzles. This charming heritage cottage houses all sorts of wonders, it's a delight for kids and a nostalgia session for mums and dads as you'll see all sorts of games and gadgets from your pre-digital childhood. My son is enthralled by the holograms and electrical puzzles. At Selwood's they're happy for the kids to stay a while and play, costing you zip! (Tip: they have workshops out the back in the school hols if you can plan ahead.)
Add Trains Planes and Automobiles at Mt Victoria and the wonderful Toy Museum at Leura to complete your toy adventure for the kids.
Exercising the imagination works up an appetite best satisfied at Cafe Josophan's in Leura, a chocolatey calorific heaven. Your kids (and choccie-loving wife) will thank you and let you buy that new fishing rod you've had your eye on. Jodie is an expert chocolatier and has won too many prizes to mention, even wowing them with her choccies in the home of chocolate: Wyong. My son's favourite is the chocolate fountain where you push fat strawberries into a spring of the cascading brown stuff. Now, Josophan's is rather posh but it's a cheap feed for the family. We order the Belgian waffles. They're only $10 but I defy you to finish them.
For dinner we make the pilgrimage to Papa Dino's, where kids are invited to form their own doughy sculptures for the pizza oven. A family-sized pizza and garlic bread (no corkage, plus discounts for students and seniors) all for under $30 – great value! However, all this thrift is wasted if, like me, you stumble into the art-gallery-cum-boutique-bottle-shop two doors up for your wine. I ask for a cleanskin and he speaks to me as though I'm from Kazakhstan. I buy some cooking wine for $18 and skulk out.
After dinner and more cooking wine, we cross the road to the Carrington – only 357 elbow crawls from Papa Dino's – where we enjoy the aforementioned snowball fight. Later, my son and I play snooker in the glorious old games room. Cravat's were optional.
The following morning we trawl antique shops and second-hand bookshops.
On Katoomba St (the main drag), there's an antique shop flanking Mr Pickwick's Fine Old Books store. We always find a bargain in there. This year is my son's treasure hunt. He finds a fabulous original '60s leather suit jacket for a song.
Our favourite antique haunt is the Mt Victoria Market in Blackheath. This capacious old theatre is full of gems. I find a Bakelite radio for about half the price of similar models on FleaBay. And my wife found an antique gold and opal ring for $18! Enjoy a coffee afterwards in their cheery coffee shop but pray the security alarm doesn't go off. I still have a ringing in my ears. Perhaps I shouldn't have nicked that radio after all.
While in Blackheath, we pop next door for my favourite budget dinner in the Blue Mountains: Denise's Gourmet Pies at the Ivanhoe Hotel. By six o'clock the place is completely chockers – I even spy families from the Carrington eating there (damn, secret's out!). Pie and chips for three: under $30. And lovely schooners of Black Ale on tap for yours truly.
On our way back to the Central Coast we pop into Blue Mountains Ugg Boots in Faulconbridge – the footwear of choice for the discerning gentleman about town back at my home. What's fascinating about this humble little shop is that this is where Ugg Boots began. Cameron Diaz and other A-list celebs owe it all to Brian Iversen in a little roadside shop in Faulconbridge. I acknowlegde this great Australian site with my long lost credit card.
So there you have it. I hope you consider this Blue Mountains blueprint to be irrefutable evidence that you can have a recession-proof holiday if you really put your mind to it.
The Carrington Hotel // 15-47 Katoomba St, Katoomba, (02) 4782 7033, www.thecarrington.com.au
Weirder the Better // 13/1 Katoomba St, Katoomba, (02) 4782 9806,
Selwood Science & Puzzles // 41 Railway Pde, Hazelbrook, (02) 4758 6235, www.selwoodscience.com.au
Trains Planes & Automobiles // 86 Great Western Hwy, Mt Victoria, (02) 4787 1590, www.antiquetoys.com.au
Cafe Josophan's // 187-197 Leura Mall, (02) 4782 4107, www.josophans.com.au
Papa Dino's Pizzeria // 48 Katoomba St, Katoomba, (02) 4782 1696.
Mr Pickwick's Fine Old Books // 86 Katoomba St, Katoomba, (02) 4782 7598
Denise's Pies at the Ivanhoe Hotel // 231 Great Western Hwy, Blackheath, (02) 4787 8158.
Blue Mountains Ugg Boots // 515 Great Western Hwy, Faulconbridge, (02) 4751 1804, www.uggboots.com.au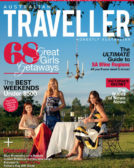 Enjoy this article?
You can find it in Issue 34 along with
loads of other great stories and tips.