Or, for a bit of excitement, Blue Mountain Adventure Company runs private canyoning tours at various crevasses along Bells Line. You don't have to be an adrenaline junkie – the company offers sessions for beginners, which come complete with a lesson or two about the local geology, how the peaks and canyons came to be and the plant life that
now inhabit them.
Bells' other secret talent is its array of antiques and boutiques around Kurrajong Heights. Among the best is Kurrajong Antique Centre which, if you take the time to sift through, is a dusty warehouse hiding some rare gems from antique Murano glassware, Australian cedar dining tables dating back to the 1820s, to a cast iron figure of former prime minister, Sir George Reid – apparently an exact replica appears in Canberra's National Portrait Gallery. Also worth a visit is Village Emporium, with a collection of antique furniture, perfume bottles, jewellery and ornaments.
Where can I eat?
Unsurprisingly, no matter where you eat along Bells, you can expect a menu sprinkled with local ingredients. At the top of the culinary hierarchy is Lochiel House – a quaint little cottage on the outskirts of Kurrajong Heights. Built by a former convict in 1825, the cottage has endured several lives as a family home, post office and art gallery, and is now an award-winning restaurant. Still with its original fireplace (a necessity for those chilly Blue Mountains nights) and an organic garden out the back, the menu centres around hearty European fare (try the nose-to-tail pork) and seasonal produce. Or 'book a chook' for a traditional Sunday afternoon roast, made from an organic, free-range Burrawong chicken with all the trimmings.
For more casual eats, Sassafras Creek in nearby Kurrajong Village triples as a café, gallery and florist, overlooking the Sydney Basin. Matching its modern Australian menu is a boutique wine list from the Central Tablelands over the mountains. However it's Apple Bar in Bilpin that's the local favourite. This boutique watering hole has all the country pub requisites – chilled-out vibe, sprawling verandahs (with views of surrounding orchards), and a menu that's not only damn tasty, but has had its fair share of mentions in the Sydney Morning Herald Good Food Guide. We'd tell you to try the Shields Orchard Bilpin Sebago crispy potato pieces with sour cream and house-made sweet chilli, or the wood-grilled kangaroo fillet with Chinese chilli plum glaze, but Apple Bar's focus on local goodies means the menu changes almost daily.
You also must save room for dessert at Tutti Fruitti, also in Bilpin. Never mind the homemade quiches and Devonshire teas here, as sweet as they are, it's the real-fruit ice-cream that's the big winner, using – you guessed it – local fruit. And as if this place could be any more adorable, on the same property as the Tutti Fruitti orchard is a rose farm, so you can pick up a bouquet too.
Bells Line is cider country, making use of the area's superfluous apples. Among the local producers is Bilpin Cider Co., using local Pink Lady and Granny Smith apples, as well as a popular pear range too. They're also in the midst of turning the property's former packing shed into a new cidery and restaurant (due to open by the end of this year). When finished, guests will be able to tour the cidery that will produce special-edition ciders, made exclusively for the on-site restaurant.
Alternatively many venues (including Lochiel House, Sassafras Creek and Apple Bar), now stock Hillbilly Cider. Again it's made using all local fruit, and without any added sugar, gluten or artificial flavours, in order to keep it as close to the real deal as possible. Oh, and it tastes delicious.
Where should I stay?
Joy of joys – there are plenty of great spots to stay along Bells, which not only cater for a range of travellers but several different budgets. Wollemi Wilderness Retreat (from $270 per night) is not only well-located between several towns, but lends itself to that middle-of-nowhere feeling – each of the timber and sandstone cabins is tucked away in private bushland (or sleep in the 'Love Tee Pee' – basic, but cute).
If you're looking for somewhere a bit more sophisticated (but cosy), we're especially fond of Farm Panaroma (from $350 per night including breakfast; yes, the spelling of 'Panaroma' is deliberate). Run by Sean Moran and Michael Robertson, the same culinary power couple behind hatted Bondi institution Sean's Panaroma, this farm stay is set on 50 acres overlooking apple trees, free-range chooks and spring-fed dams, while the interior is a stylish combination of polished-concrete floors and plush finishes. Continuing the local produce theme, much of the food here – cooked by Mr Moran himself – comes from the property, which boasts an impressive fruit, herb and vegetable garden, as well as resident chickens, geese, goats, sheep and saddleback pigs.
If you'd rather not stare dinner in the eye, Ghost Hill Road Retreat (from $550 for two nights mid-week) is one of those ultimate snuggle-up destinations to just catch your breath. Set on 20 acres on the edge of Blue Mountains National Park, each of the two guest cottages comes with a king-sized bed, spa bath and log fire. Owner Brenda McCartney runs daily tailor-made yoga classes, spa therapies and guided mountain walks for guests, as well as an optional organic 'power cleansing' menu for those who want to take their weekend rejuvenation one step further. But as Brenda says, "I also have many guests who come here, order a room-service dinner, and sleep the weekend away. They're just so exhausted from their busy city lives, they come here to just… rest". Ah, we're unwinding already.
Finally, for a hugely indulgent Bells experience, Mending Wall (from $850 per night) on Mount Irvine is hard to trump. Sleeping up to eight guests, this designer holiday house comes with all the trimmings you might expect – flat-screen TV, gourmet kitchen, outdoor dining area – and then some. Expect champagne on arrival, Aveda toiletries, a mezzanine reading library and a baby grand piano… just remember to invite someone who can play it.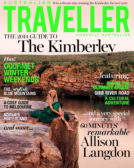 Enjoy this article?
You can find it in Issue 57 along with
loads of other great stories and tips.