The ultimate Sydney weekender, Mudgee has some distinct advantages over its better-known wine rival, the Hunter Valley. For one it's a single town, not an entire region. Mudgee's wineries form a moat of liquid gold around the township and are an easy journey from town either north, south, east or west.
But it was the alluvial kind of gold which kick-started Mudgee. Hargraves' original finds in the area, particularly Gulgong and Hill End, led to a boom in population. Prior to this, the town was a fractious farming community most noted for its severe conflicts with the local Aboriginals.
Today, it's the wine crop that makes Mudgee most notable. The pick of the wineries is debatable, however for pure aesthetic and cellar door experience, the Oatley family-run Craigmoor and the incredibly picturesque and contemporary Logan Wines are AT's choice.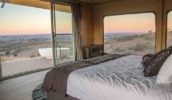 The region's organic wineries are also gaining some fine awards (AT rates the Thistle Hill Riesling) and Mudgee's restaurants are bountiful. AT likes the incredibly good yet overlooked Rajarani's, where the traditional Tandoor ovens have been installed via India, as well as the very child-friendly Elton's Brasserie and the "must do" Roth's wine bar.
Where? // 270km (3.5hrs) northwest of Sydney.
Did you know? // Mudgee has some very famous sons and daughters. The most famous being Henry Lawson, who lived in the area till he left school – almost completely deaf at age 15. Many of his poems are related to scenes in Mudgee, including the "Old Bark School", which he attended and was established by his activist mother.
(Photos courtesy: Destination NSW)
Return to: the 100 Best Towns in Australia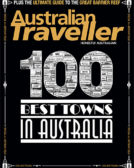 Enjoy this article?
You can find it in Issue 26 along with
loads of other great stories and tips.