Surrounded by horses, goats and burgeoning vines, Kerry van der Jagt and David Pay share a treasured discovery on the winding road to Mudgee.

Three hours northwest of Sydney, through the Blue Mountains and up past Lithgow and on the road to Mudgee, I finally find the meaning of the word "vacation". It comes from the Latin vacatio, meaning freedom, emptying; a suspension of normal activity.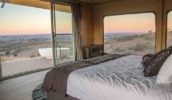 When we arrive at Turon Gates Country Retreat, there's a bottle of Mudgee red and a tub of honey on our kitchen bench. A note reads: "Please enjoy a glass of wine with our compliments. We trust the flavours of the wildflowers in this Turon honey and birdsong in the morning will make for great days."
As long as the birdsong isn't before 10am the days will be just fine. Turon Gates has 15km of crystal clear trout stream (although water levels are extremely low due to the drought) and 2500ha of rolling hills and arresting bushland. The place crawls with wildlife – kangaroos, wallabies, wombats, even the odd serpentine red-bellied-black. Oh, and a few hundred feral goats, one of which is kept as a pet by the daughter of the lady who manages the horse riding. (The goat was adopted to keep the dog company. I kid you not.) The mountain and riverside cabins are fully furnished and sleep eight. The timber walls, the floor and the huge kitchen-slab bench whisper welcome in a way that city hotels can never manage. An excellent selection of books and magazines has me purring. We're checked in for a weekend and, although we arrive on Friday night, we don't have to vacate until 11.00am on Monday. What bliss.
Horse'n Around
When Richard III made his famous unplanned dismount and offered up his kingdom for a horse, he'd just broken the first rule of riding: always keep your mount between you and the ground. I've agreed to go on a trail ride for two reasons: firstly, to work off the effects of the previous evening's Mudgee red and chockie bikkies (take it from the horse's mouth, the total calories used per hour while riding is the same as jogging); and secondly, it's expected when you "go to the country for the weekend".
I'm unhappy with my assigned steed, a weedy beast named Wilson – "Kerry and Wilson" having not quite the same ring as Roy Rogers and Trigger. Or even Gumby and Pokey if it comes to that. But with a giddy-up that would do Kramer proud, we're off. At the first bend Sambucca is in front, followed by Wilson, Oscar and Rastus. Wizard brings up the rear. No matter what tricks we employ, this sequence never varies. Nose to tail we plod towards our first hurdle: the river crossing.
Though none of us hail from the Snowy River, we gallantly give our horses their heads and make our way sluggishly across the raging rocky puddle. We send no flint stones flying and I can't imagine future stockmen composing lengthy poems of our legendary ride, but we whoop and holler all the same. On the home stretch we amble past the historic Chinese walls, built during the gold rush era of the 1850s. Not quite the Great Wall, but impressive nonetheless.
When riding a horse we borrow freedom. In an age in which everything is a double-click away, it's refreshing to listen to whispering gums, not nagging deadlines, to be startled by bouncing kangaroos, not credit card statements, and to talk to our friends, not email them. Burning off a few hundred calories is a bonus.
Intermezzo
Bucolic Overload is a condition that always lurks around a corner at Turon. It results from long periods spent gazing at rolling hills and heavily timbered mountainsides, walking across dry creek beds or dodging kangaroos and feral goats. It can be easily treated by taking an 80km drive to the wineries and restaurants of Mudgee where fate may deliver you to the di Lusso Winery on the outskirts of town.
Home to the winery is a large olive green hangar surrounded by chairs and tables beneath canvas umbrellas. Rob Fairall, the winery's supremo, has planted 30 acres of Italian grapes – Picolit, Sangiovese, Barbera, Aleatico, Nebbiolo – and is still experimenting to find the ideal vines for Mudgee. He feels the climate may be too hot for the Nebbiolo, a variety that does well in the long ripening season of the hills of Piedmont, and has a notion to replace them with Taurasi, which grows well in Campania, an area south of Rome.
To accompany our wine tasting, Rob tries to interest us in a game of bocce on the gravel court he's built in front of the winery. He doesn't want to play himself but is satisfied walking up and down reading the rule sheet. Rob is very happy to be the instrument of other peoples' pleasure. But the game suffers from divided attention – we're more interested in talk of his wine, and we start to speculate about what might be di Lusso's flagship drop.
"Aleatico?" Rob has the residue of a South African accent, so that when he pronounces Italian words you feel the gentle shudder of colliding cultures. "It's unique and people travel from all around to try it. I'd like to promote it as the flagship wine, but it's not good enough yet. It hasn't got the complexity . . . but it might have one day.
"The Picolit is really unique but it's not a mainstream wine. Perhaps the Barbera will be the flagship. Only about ten producers in the country do Barbera, whereas about 100 make Sangiovese."
Rob is unusually diffident about the choice and the conversation judders to a temporary halt. He's still in deep contemplation when we abandon the game and return to the hangar where plates of cheese and olives are laid out on timber counters. Oak barrels and stainless steel fermenters surround us and the air is alive with the vegetal smell of grape juice.
"It's almost as though my whole philosophy is not to have a flagship wine," Rob carries on. "Wine goes across the food range . . . what's your favourite food? I've got a flagship wine for that." His credo quickly emerges: "The exercise is totally about food and wine matching. It's the only way I can even talk about my wines."

Turon Gates Country Retreat
Where // Three hours northwest of Sydney, 40km past Lithgow.
Phone // (02) 9969 3818
Web // www.turongates.com
Email // info@turongates.com
Costs // from $360/weekend
di Lusso Winery
Where // Eurunderee Lane, Mudgee
Phone // (02) 6373 3125
Web // www.dilusso.com.au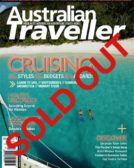 Enjoy this article?
You can find it in Issue 15 along with
loads of other great stories and tips.