Don't miss this
Make a point of eating at Lolli Redini. If you leave Orange without doing so, you've truly missed out. With seven consecutive hats since 2002, it's the pick of eatieries and Simonn Hawkes is revered across the country for creating an outstanding restaurant using mostly local produce. Cosy, romantic and perfect for the foodie/romantic escape. Two course $60, three course $75.
Lolli Redini // 48 Sale St, (02) 6361 7748, www.lolliredini.com.au  
Back to school
Mayfield Vineyard is a magnificent setting for the School House Restaurant outside the city itself. The School House has never reached the lofty heights of Lolli Redini but the ambience is quintessentially glorious countryside with a great meal.
Mayfield Estate // Icely Rd, (02) 6365 9293, www.mayfieldvineyard.com
Lunch for your life
In the old Union Bank building a few doors up from Lolli Redini, the Belgravia is the spot for the perfect lazy Sunday afternoon lunch. Acting as a cellar door and a café with excellent café style food, it's an excellent summer, spring or autumn afternoon.
Belgravia // Sale St, (02) 6361 4441, www.unionbank.com.au
How d'you like them apples?
If you want to know more about where your fruit is coming from, drop in on Max at Hillside Orchard. "The biggest problem fruit growers have is you, the consumer," says Max. "You change your minds more often than you change your socks." He'll also tell you how Fuji apples were in fashion but are now not. How the Royal Gala apple became the Galaxy apple as the consumer wanted a more full red apple. It's illuminating and makes you look at the fruit in Coles in a whole new light.
Visit Borrodell, Hillside and other orchards after November and you can harvest your own apples, pears, peaches, nectarines, raspberries, and blackberries. Max has around 400 people picking in his orchards about three weeks out from Christmas.
Hillside Orchard // 1209 The Escort Way, Borenore, (02) 6365 2247
Climb Orange Mountain
Orange winemakers are a curious bunch. Terry Dolle of Orange Mountain has arguments with his Viognier. "You look at the vines and just think, 'What were you thinking, dude?" Terry takes caring for his vines to a new level. "You have to tell them you can't ripen all them grapes and then knock them off." And those vines have travelled far; they're cuttings from the prestigious Chateau Grillet in the Rhone Valley. Terry also sells a Verjus used by many of Sydney's leading restaurants.
Orange Mountain Wines // Cnr Forbes Rd & Radnedge Lane, (02) 6365 2626, www.orangemountain.com.au  
Blood from a Rose
Bloodwood is the region's first winery, set up more than 25 years ago. Budgie maniac, wine maker and Bloodwood owner Stephen Doyle is more often than not showing you his wares in the lovely and understated cellar door. It's also the only cellar door AT has seen with toys and books for the kids.
The Rose, "Big Men In Tights", is considered one of Australia's best. Ask Stephen about the chardonnay he handpicks and presses himself – it's AT's pick.
Bloodwood // Griffith Rd, (02) 6362 5631, www.bloodwood.com.au  
[*Ed's note: An entire feature on Orange without a single solitary joke about the lack of oranges there is quite an achievement. Well done.]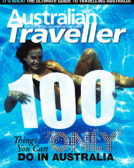 Enjoy this article?
You can find it in Issue 20 along with
loads of other great stories and tips.