This cut-above B&B is the perfect base to explore this low-key but diverse wine region, as Jonathan Empson discovers. "Come on; time for a bit of a hop," says Andrew Hudson. His wife Vicki has just settled us into Orchard Cottage, one of Evanslea's four self-contained spa cottages, and we're on the deck admiring the view over the nine-acre grounds. Andrew isn't talking to us but to Izzy and Bella, two rescued joeys that the Hudsons are babysitting. If Andrew didn't tip them out of their fleecy surrogate pouches periodically and encourage them to move and graze, they'd happily snooze all day.
The woozy little roos tentatively explore the area, instinctively heading for the safety of the nearest pair of legs – which happen to be mine. They experimentally nibble on my sandals then obediently hop off after Andrew.
The joeys are only temporary members of the friendly Evanslea menagerie of chooks, dogs, cats and budgies, but are one of the highlights of our two-night stay, which I'd booked for the weekend of my wife Sue's birthday at the end of February.

Late summer is a great time to visit Mudgee, when the grapes are hanging fat on the vines and the growers watch the weather reports with the tension of grand final spectators. The days are cool enough for wine tasting, the cellar doors are quieter than in the Easter and September peaks and accommodation is more affordable.
Mudgee has cheaper places to stay than Evanslea, of course, but not with this wow factor. Orchard Cottage is a huge open-plan space incorporating sleeping, sitting, kitchen, dining and bathroom areas. The spa bath takes a good half-hour to fill, but if you get impatient there's always the two-head shower. The kitchen's cooking facilities are limited to a microwave oven and two-ring hob, but there's also an electric barbecue on the deck. The sitting area has two leather sofas and flat-screen TV with DVD.
We don't even turn on the TV during our stay. Our first post-joey stop is Evanslea's tennis court, which has what Andrew describes as a "hit and giggle" surface of clay, gravel and dead weeds. Nailed-down metal strips mark the lines, providing the giggle factor when the ball hits them and spears off at a random angle – though I suspect tripping over them would be less funny. In the surface's defence, the court was drowned under a metre of water two months earlier when the Cudgegong River burst its banks.
The Cudgegong, which borders the bottom of the property, is now back to its normal level and is apparently a good place to spot platypuses, though we failed to do so on a stroll along its banks. A longer study in the company of a bottle of Mudgee chardonnay is clearly called for.
Orchard Cottage is built a metre above the 100-year flood level, but it would be a great place to be marooned. It's cosy, tastefully decorated and well equipped for self-catering. On this weekend, though, breakfast was the only meal we made ourselves, as we ate in town in the evenings. And this is Evanslea's trump card: despite its tranquil rural setting, it's only 10-15 minutes on foot to the town-centre restaurants. So if one of you has been the designated driver on your wine-tasting tour (and the birthday girl certainly wasn't volunteering for that duty), you can both fall off the wagon in the evening.
Plan to eat early as some restaurants close at 9pm – or earlier if it's a slow night. On our two evenings we sampled Eltons on Market St, which has competent mod-Oz dishes and pizzas, and the Wineglass Bar & Grill, around the corner on Perry St, where the atmosphere and food are better but the service is notoriously patchy – we eventually gave up trying to order dessert. However, any irritation faded after a stroll back to Evanslea under Mudgee's crystal-clear, star-packed night sky.
When you see a cockerel roaming the grounds of your accommodation, it can only mean one thing: an early morning call. I was tempted to serve coq au vin for breakfast. My mood was improved only by the prospect of wine-tasting after a late morning (and no doubt palate-ruining) coffee in the vine-shaded courtyard of Alley Cats Coffee House in town.
Having duly visited four cellar doors in the vineyards bunched just to the north of Mudgee, we returned to Evanslea for a dip in the pool, another giggle on the tennis court and a couple of hours reading on the deck, overlooking the pond, with the amiable Kevin on Sue's lap. (Kevin is one of the Hudsons' cats, I hasten to add.) This is what weekend breaks are supposed to be like.
THE AT Verdict
Jonathan Empson, who paid his own way and visited anonymously, says:
Evanslea promises relaxation and it delivers. The spa cottages are luxurious and secluded, the hosts are friendly and the location is perfect. And if you're a serious tennis player… well, there are always Mudgee's public courts.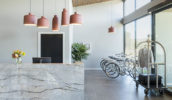 THE DETAILS
Where: Evanslea, 146 Market St, Mudgee, NSW.
Notes: Orchard Cottage cost us $250 per night (self catering), compared to $350 at peak times. Other options cost $225-$400 per night and breakfast/dinner packages are available. Mudgee was originally known for its organic and red wines, but the climate suits a variety of grapes, particularly chardonnay – we enjoyed those from Two Furlongs and Robert Oatley. Also try Louee rieslings from one of Australia's highest-altitude vineyards, and di Lusso's Italian-style wines including its unusual lagrein rosé.
Contact
(02) 6372 4116;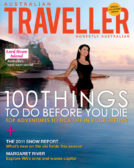 Enjoy this article?
You can find it in Issue 38 along with
loads of other great stories and tips.