Hailing from Orange County, California, Andrew Smith went on a mission to Parkes for Australian Traveller to see if he could make heads or tails (or sideburns) of the town's annual Elvis Festival. Andrew is 'Chief Funster' for Destination NSW, a six-month role he won as part of the NSW 'Best Job in the World'.
We Americans pride ourselves on being a wacky yet adventurous bunch of people.
Thousands and thousands of us converge at conventions such as Comic Con, Star Wars Celebration and Blizzcon – events known for their uniqueness and enthusiastic and devoted fan bases.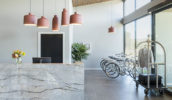 It's pretty easy to jump on the bandwagon and be a part of these sorts of gatherings these days. However, some events are reserved only for the truly hardcore. So I travelled out to central New South Wales to find one of the best examples of these: the Parkes Elvis Festival.
Each year, more than 18,000 'Elvii' (plural of Elvis) take over the country town of Parkes for five days of celebrating all things Presley – a feat made even more impressive considering the entire population of Parkes is around 10,000.
The famed festival (February 8 to 12 in 2014) always begins with the Elvis Express, a seven-hour train ride from Sydney, crammed full of Elvis superfans in full costume.
It's a visual feast from start to finish, with Sydney's Central station packed with people dancing to Elvis tunes throughout the concourse, the excitement building for what's to come.
As soon as the train boards, it's an explosion of performances, champagne, full-blown Elvis portrait t-shirts and cheer everywhere. Each carriage starts belting out its favourite Elvis tunes and things get pretty crazy, pretty quickly.
On arrival in Parkes, it seems like the entire town is waiting for the train to roll in. People line the platform with their cameras to capture the superfans and impersonators in all their glory.
Jumping off the train, if only for a short moment, you get a taste of what it would have been like to be Elvis himself. From there, it's all about reliving the rock 'n' roll era which took the world by storm.
In its 22nd year, the festival rolled out everything from look-a-like contests and a Miss Priscilla competition, to an Elvis Gospel Service, street parade and dozens of themed parties around town.
Joining the colourful Elvis Street Parade, in American style right-hand-drive converted muscle cars, surrounded by blue suede shoes, I realised just how deeply you can sink into a different world.
Before the festival, I hadn't seen so many sideburns outside of Texas.
Every era of The King is covered among dressed-up attendees – black leather, white jumpsuits and even capes. A few of the Priscilla Presley space-puff hairdos reached, I'd say, at least 15cm in height. Whether the hairspray will ever come out of their hair or not is another story.
When you think of America, sideburns and chops, muscle cars and Elvis come to mind. However, after visiting Parkes for this lively event, I will forever associate these with here.
It was one of those experiences I will never forget. It's surreal – a town overrun by Elvii – but somehow it all seems quite normal when you're watching the festivities unfold from behind your Elvis sunglasses and in a sequined jumpsuit.
It's been more than 36 years since Elvis "left the building", but for a few days in Parkes each year, The King is very much still alive.
MORE
For further information on Parkes and the festival.
Follow the Chief Funster's adventures (facebook.com/sydneyfunaustralia and @sydneyfun).