Readers recommended accommodation in Gundagai The Track Winding Back

AT reader Mick Raynes from Albury-Wodonga reckons the Dog on the Tuckerbox isn't the only must-see attraction in Gundagai.  He recommends..

The Tuckerbox Motor Inn, 87-97 Mount Street, Gundagai, NSW
Owner: Len and Debbie Feeney,
(02) 6944 0300, www.tuckerbox.com.au
I just read your Best 101 Hotels in Australia feature (issue #009), and while it's obviously too late, I wish to put my two bits in for a small motel on the Hume Highway at Gundagai in NSW.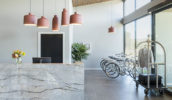 We've stayed at some of the swankier motels around, Sofitel in Melbourne, Sea Temple in Palm Cove, Hilton in Sydney ad infinitum. But at the end of the day, the best value motel we've stayed in is on the south side of Gundagai next to the BP service station. I think it's called the Tuckerbox Motor Inn – but sadly I'm not sure. (It is. – Ed.)
My wife had called in there to avoid a storm which blew through as she was driving south, and they immediately looked after her – but after about two hours the storm had blown over, so she decided to keep going. The owners chose not to charge her for the room whatsoever and were only concerned with her safe arrival.
About three months later I had reason to stay in the same motel and I was very surprised. The rooms were the most tastefully appointed of any room we'd stayed in (with the possible exception of the Sea Temple), the bed was unequivocally the most comfortable I'd ever slept on, the room was at least twice the size of the room on the 50th floor of the Sofitel and (this is the clincher) there was a jug of fresh milk sitting in the fridge for my cuppa – and no, they didn't have time to put that in there from when we booked in! The charge? $80.
Do yourself a favour, if you're looking for a layover on the trip between Melbourne and Sydney, give the motel on the south side of Gundagai, next to the servo, a fling – it is a dead-set winner.
PS: I have no affiliation whatsoever with this mob – and for what it's worth, on the same trip we also scored a great feed at a place called the Paragon Cafe in Goulburn (174-176 Auburn St, [02] 4821 3566). It didn't add that much more on to the trip and was a much better option than the Golden Arches, I believe.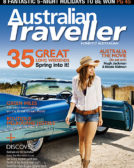 Enjoy this article?
You can find it in Issue 23 along with
loads of other great stories and tips.